Treasures give glimpse of civilization at the crossroads
Share - WeChat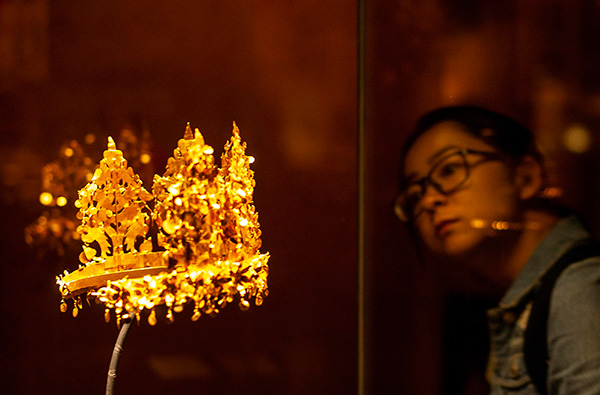 Since March 2017, more than 200 artifacts from the National Museum of Afghanistan, in Kabul, have been touring China to offer a portrait of a civilization standing at the crossroads of East and West.
To mark the first Conference on Dialogue of Asian Civilizations to be held in May in Beijing, this assembly of archaeological treasures is now on show at Tsinghua University Art Museum. Entitled Utensils and Ornaments Endlessly Fine, the exhibition was unveiled on April 18 and runs through June 23.
The Afghan artifacts include bronze objects, gold jewelry, limestone architectural components, glassware and ivory plaques, all vivid evidence of the diverse history of a landlocked country that once played a significant role in cultural interchanges between civilizations on the Eurasian continent.
Du Pengfei, deputy director of Tsinghua University Art Museum, said the treasures offer glimpses into the decline and revival of a region and its civilization, showing people the power of cultural interchanges and communication.
Most Popular