Shanghai picking up pace in cultivating marathon culture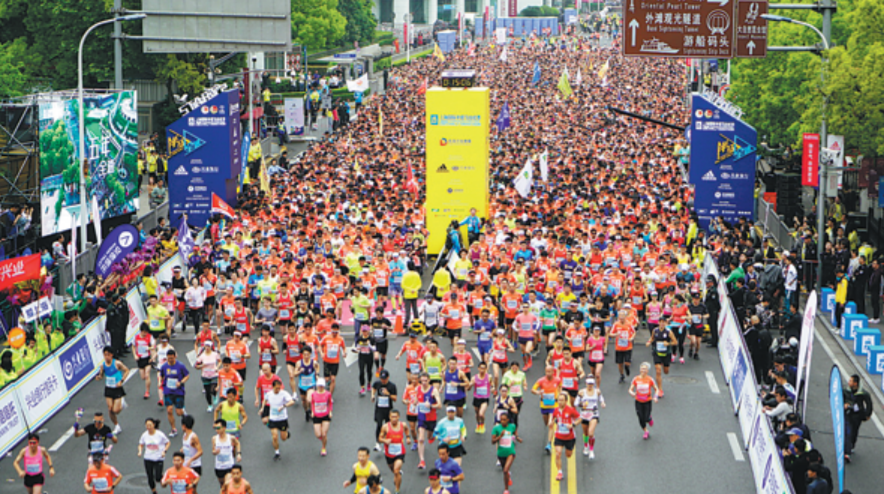 Paul Joseph Ravenscroft has competed in half marathons from Russia to England and the United States, but he's quick to pick the race in Shanghai as one of his favorites.
"It has always been very well organized, and the people here are very warm and friendly," said the 48-year-old, who took part in the April 21 Shanghai International race.
"The services are excellent too. It's nice to see so many water points along the course.
"I think a lot of people want to run this race because it's very scenic and well-planned."
Established in 2015, the Shanghai International Half Marathon hosted some 15,000 runners this year, with about 98 percent of them completing the 21-kilometer race that kicked off at the Oriental Pearl TV Tower and ended at Shanghai Oriental Sports Center.
A fleet of 15 ambulances, along with 21 medical stations, 800 security staff and 1,781 volunteers dotted the course.
Antenayehu Dagnachew Yisma and Bedatu Hirpa Badane of Ethiopia won the men's and women's events respectively.
Wu Xiangdong was the top Chinese male runner, while Li Zhixuan was the fastest among Chinese women.
The race has grown considerably since its inception, with the number of participants increasing from 5,000 in 1996 to 15,000 for this year's edition..
Competitor Lin Weihang, said he was happy to see many runners from other countries take part in the event, adding that this is one of the reasons why the race is ranked among the best in China.
The top 600 male and 300 female runners were awarded direct access to November's Shanghai International Marathon, a race for which it has always been difficult to gain entry due to its popularity.
Jointly staged by the China Athletics Association and the Shanghai Sports Federation, the International, which includes full and half marathon events, a 10-kilometer race and a casual event for fitness enthusiasts, has steadily grown in influence since being founded in 1996.
In 2014, Donghao Lansheng Group Co. Ltd became the main sponsor of the event. A year later, it separated the half marathon from the rest of the races.
"In 1996, the Shanghai International Marathon only had 5,000 participants but last year we hosted about 38,000 that were chosen from about 150,000 applicants. The half marathon has also expanded rapidly," said Zhou Jin, manager of Donghao Lansheng Group Co. Ltd.
Over the past few years, runners from more than 80 countries and regions have taken part, accounting for 20 percent of the overall participants and making Shanghai's full marathon the most cosmopolitan in the country.
"Moreover, the ability of the runners has improved. Over 700 completed last year's full marathon within three hours. Only around 200 could achieve that a few years ago," Zhou added.
One of the main reasons behind this, he explained, is a growing prosperity that allows people to spend more time and money on sports and fitness pursuits.
Another reason is that people today are more concerned about maintaining a healthy lifestyle.
Other factors include the constant promotion of running events by key opinion leaders online and a greater number of races being held in the city.
"For the past few years, we have been constantly improving the marathon events, including designing new courses and listening to feedback from the runners in order to satisfy their expectations," Zhou said.
Though marathons are highly popular in the city, more can still be done to improve the local running scene.
Chen Guoqiang, an associate professor at the Shanghai University of Sport who participated in the Shanghai International Marathon for 10 consecutive years from 2003-12, said the race should aspire to be more like the iconic events in London and Boston, which have richer marathon cultures.
Each of those cities hosts around a hundred races every year, while Shanghai only has dozens.
Zhou also suggests that education about the science behind running and proper training techniques needs to be improved.
He said this is important because marathon running does not have a long history in China and many runners still do not possess sufficient knowledge about the sport.
Chen pointed out that sports colleges need to play a supporting role by educating runners and promoting the events in schools and the greater society.
"Successful marathon events bring long-term benefits to a city," he said. "Expanding the sports industry in the city can create a ripple effect and stimulate many other related industries."
Tang xiaofan contributed to the story