Ma Long claims third crown, a first in half a century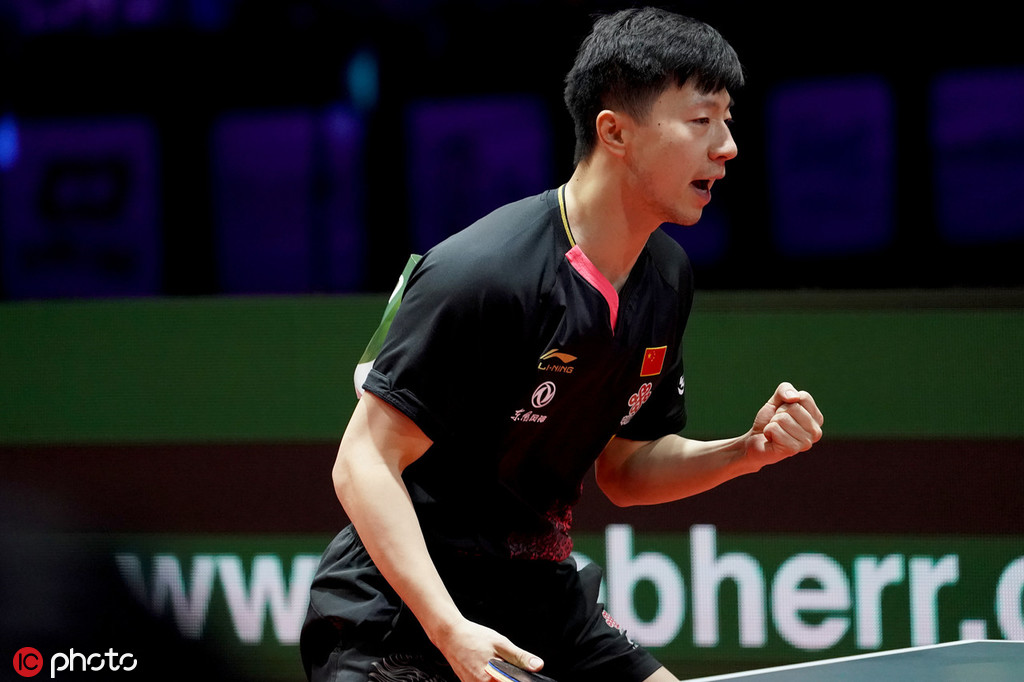 BUDAPEST -- China's Ma Long claimed his third straight men's singles title at the World Table Tennis Championships here on Sunday, becoming the first man in over half a century to do so.
The 30-year-old multi-Olympic champion's top spin attacks and placement shots were too much for Sweden's Mattias Falck, with Ma winning 11-5, 11-7, 7-11, 11-9, 11-5.
Ma is only the third man in history to have claimed three or more consecutive singles crowns, a feat that had not been achieved since compatriot Zhuang Zedong won the 1961, 1963 and 1965 editions of the biannual tournament.
Hungary's Viktor Barna won four consecutive titles in the 1930s, when the world championships were held every year.
Ma had to be at his best to beat Falck, who plays a unique game with pimpled rubber on forehand and is coached by 1991 world champion Jorgen Persson.
"This might be my last individual world championships," Ma said. "I value this opportunity and don't want to regret for the rest of my life."
Liu Guoliang, president of the Chinese Table Tennis Association and formerly a redoubtable player in his own right, hailed Ma's mental strength and consistent play.
"Ma Long is coming closer to being the greatest player in history," said Liu. "His mind and skills are unbelievable."
Falck, who stands 1.91m tall (6'3), was the first Swede to reach the men's final since Jan-Ove Waldner claimed his second singles gold at the 1997 worlds.
"Falck came from a country with rich table tennis tradition which understands the Chinese way of pimpled rubber and fast attacking," said Liu.
"The final was China against Europe, but what's interesting is that Ma uses a more European style and Falck plays in a more Chinese style," said Liu's elder brother Guodong, head coach of the Hong Kong team.
Falck had troubled Ma in the third set and led 7-3 in the fourth, before Ma pegged him back to 11-9.
Ma punched the air after his victory, appearing calmer than in his first post-final celebration in 2015, when he jumped on the table and posed like a king.
"I represent more than myself," said the three-time champion. "I represent the Chinese team and China."
"Joining the Chinese team means responsibility and pressure. I am just one of many who are carrying on the Chinese table tennis tradition and heritage," he added.
Ma Long had earlier claimed the men's doubles title with Wang Chuqin. Liu Shiwen had won her first women's singles title in her sixth world championships and third final, and the mixed doubles gold parntering with Xu Xin.
China completed a clean sweep of five world championships golds as Sun Yingsha and Wang Manyu came from two sets down to beat Japanese duo Hina Hayata and Mima Ito 4-2 (8-11, 3-11, 11-8, 11-3, 12-10, 11-8).