Baby-faced Zhou comes of age with Allen upset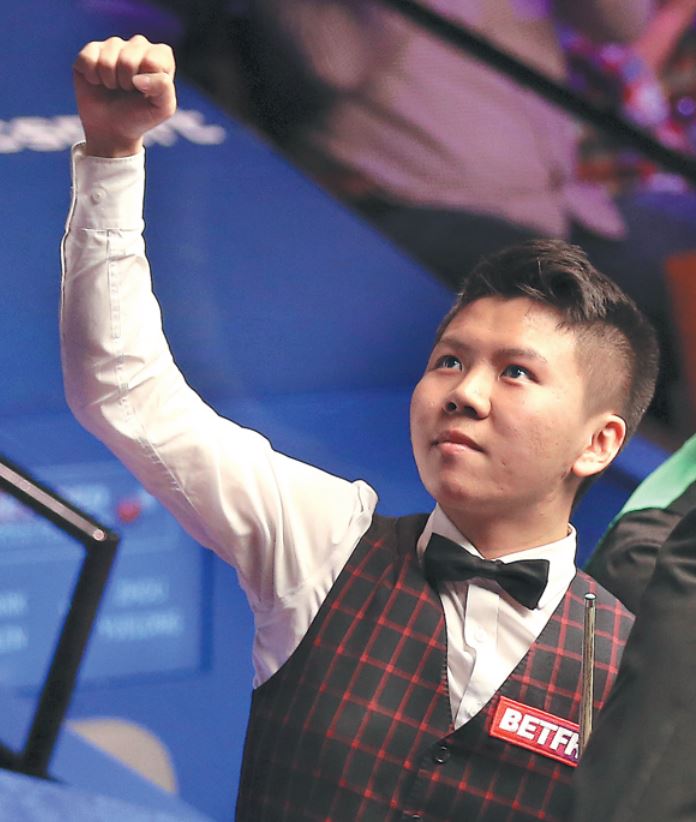 Young Chinese potter keeps cool in Crucible shock
China's baby-faced assassin Zhou Yuelong showed nerves of steel beyond his 21 years to send Mark Allen crashing out of the World Snooker Championship in Sheffield, England, on Wednesday.
After world No 1 Ronnie O'Sullivan's shock exit to amateur James Cahill on Tuesday, 2018 Masters champion Allen was touted by many observers to go all the way at the Crucible Theatre this year and win his first world title.
But the Northern Irishman, who won November's International Championship in Daqing, Heilongjiang province, found himself 7-2 down to Zhou after the first session.
Despite a spirited comeback by Allen, Zhou kept his cool to finish the job and advance on a 10-7 scoreline, setting up a last-16 meeting with Jack Lisowski or two-time runner-up Ali Carter on Sunday.
"I'm happy to win. Mark played very well from 9-2 down; he scored fast and heavily," said world No 35 Zhou, who hails from Chengdu, Sichuan province.
"I just had to wait for my chance and concentrate on every shot. I think this was my best match of the season, especially yesterday's session.
"I'm excited for the next match. I was happy to play against Mark, who is one of the best players in the world. I enjoyed it.
"In snooker you just have to do your own job, concentrate on yourself. If you think about your opponent too much it has a bad effect on your own game. I just focus on myself."
Allen said his decision to skip the China Open in Beijing earlier this month had not left him rusty for the Crucible.
"I prepared as well as I ever have," said the 33-year-old.
"I didn't go to the China Open, partly because my mother-in-law wasn't very well-she was in intensive care but is over the worst now, touch wood-but also because my game wasn't in good shape. I went to see Terry (Griffiths, his coach) for a few days and tried to get myself ready for here.
"I lost a bit of weight, prepared really well, but it wasn't meant to be. I found a bit of form from 9-2 (down) and really fancied the job from 9-6.
"It felt like I had him on the ropes and I'm proud of the way I hung on, but it's a disappointing end to the season."
Meanwhile, China's Li Hang narrowly avoided the same fate of compatriot and fellow debutant Luo Honghao, who this week became only the second player to suffer a whitewash at the Crucible in losing 10-0 to Shaun Murphy.
World No 28 Li at least got one frame on the board in a 10-1 thrashing to Barry Hawkins.
Li's exit leaves Zhou and Ding Junhui as the only two of six Chinese players left in the draw.
Ding, who defeated Scotland's Anthony McGill in his opener, yesterday learned who his second-round opponent will be after reigning Masters champion Judd Trump of England edged Thailand's Thepchaiya Un-Nooh 10-9.
World No 7 Trump, who trailed Un-Nooh 6-3 at one stage, said he will have to improve to get past 2016 finalist Ding, who he faces on Saturday.
"I probably play a little bit better when I play the top players, so hopefully now I can raise my game to how it was in the Masters or a couple of the other tournaments I've won," said the 29-year-old Trump.
"All my big titles seem to come when I play Ronnie (O'Sullivan). I didn't look at it as a good thing him going out; I always cherish playing him and especially at the Crucible it would have been amazing.
"I need to go back and practice properly, stick four or five hours' practice in for the next couple of days and come back as a new man. The way Neil (Robertson) is playing he definitely has to be the favorite.
"I'm one of the people that have got a lot to prove here. A lot of the other top players have already won it, so they've got that experience.
"I'm hopefully going to be able to settle down and really enjoy the game against Ding now."