Chinese autos turning more heads in a competitive industry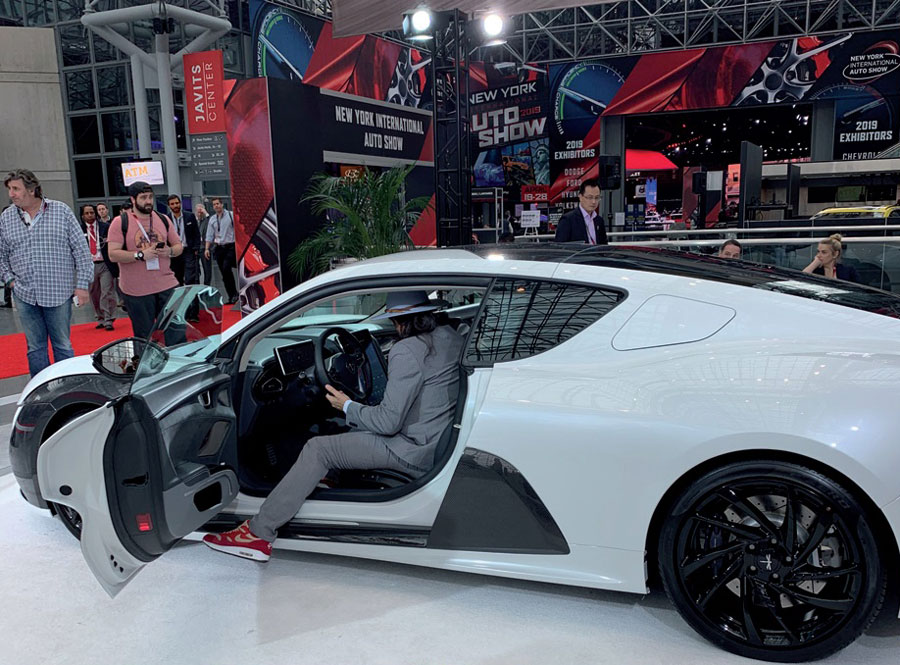 The global auto industry is undergoing a shift, as a host of Chinese automakers set their sights on selling in the US, and American and European brands increasingly target sales in China.
Qiantu Motor, Byton and GAC, all Chinese brands, have made it clear that they want to make inroads into the US auto market in 2020.
Qiantu has forged a partnership with US-based Mullen Technologies to help bring its K50 electric supercar to America.
Frank McMahon, Mullen's chief engineer, told China Daily: "I first saw this car in 2017. I saw a prototype of this in Beijing at the electric-vehicle (EV) show. … Qiantu is such a fabulous company.
"They did a fantastic job on design, engineering, finish, it's a sexy-looking car; it fits the market segment. There's really nothing like this out there as far as a two-seater electric high-performance sports car at this price point," he said.
The K50 was developed in China and was unveiled at the New York International Auto Show (NYIAS) last week.
With a sticker price of $100,000 to $150,000, it will go on sale in the US after it is modified to meet US standards. The company said the car can run for 240 miles before it needs to be recharged.
Byton, an EV startup with Chinese backers, said it had received more than 50,000 orders globally for its new SUV and will start producing it by the end of the year.
Daniel Kirchet, Byton's co-founder, said the automaker plans to manufacture 10,000 units by the first half of 2020.
In January, Guangzhou Automobile Group Motor Co (GAC) showcased its brand-new EV "Entranze EV" at the North American International Auto Show in Detroit.
"We hope to gain a foothold in the US market and bring our top-quality products to US customers that will help us expand further into other regions around the world," Yu Jun, president of GAC, told China Daily in Detroit.
China has quickly become the world's largest electric-car market with sales of pure electric vehicles, hybrid SUVs and sedans reaching 1.3 million in 2018 (half of the world's sales), according to The Associated Press.
Last year, auto sales in China fell for the first time since the 1990s, but sales of new- energy vehicles rose 85.4 percent, Reuters reported.
The Chinese government has encouraged sales of new-energy vehicles for more than a decade, to ensure that automakers create models that can compete with gasoline-powered cars.
Charging stations are being built nationwide to accommodate the new cars, and buyers and sellers have been eligible for subsidies, which will end next year and be replaced by sales targets.
In China, annual car sales are expected to increase to 30 million, from 23 million. US total sales in 2018 were 17 million.
As the world's largest auto market, China has gotten increasingly more attention from foreign automakers.
In the US, Ford's luxury brand Lincoln said its new small SUV, the Corsair, will be built in China and Kentucky — the first time that Lincoln will market and build an SUV in China. The Corsair will go on sale in the US in the fall and then later in China for around $35,000.
"I think that the technology that's in the vehicle will definitely entice the Chinese buyer," Megan McKenzie, marketing manager for Lincoln's SUVs, told China Daily. "When we developed our brand, it was really centered around understanding the Chinese customer and what they wanted out of the vehicle."
General Motors CEO Mary Barra said Cadillac had seen strong growth in China. Sales of Cadillac rose 17.2 percent in 2018.
Barra said that the automaker plans to launch a new product every six months for the next three years in China.
At the auto show in Shanghai, GM unveiled Buick's first all-electric vehicle specifically for China — the Velite 6 model — which can travel 185 miles before a recharge.
GM plans to sell 1 million electric vehicles per year by 2026, and expects many of those sales to be in China.
Among the European carmakers, Mercedes-Benz in Stuttgart, Germany, signaled China's importance after it debuted its new electric vehicle — the EQC 400 — in the country.
Mercedes-Benz, owned by Daimler AG, said it will introduce 10 more electric models in the next year, many of which will be built in Asia.
"For Mercedes overall, China is a very important market," Dietmar Exler, Mercedes-Benz CEO USA, told China Daily.
BMW, based in Munich, said it will produce its X3 sports activity vehicle in China starting in 2020, and export it worldwide.
Volkswagen, headquartered in Wolfsburg, Germany, announced that a series of electric vehicles will be available in China starting in 2021.
Porsche, which is also based in Stuttgart, is exploring joint projects with Chinese technology giants Tenecent Holdings and Baidu Inc.
Porsche's CEO Oliver Blume said in an interview in Shanghai recently that technology for many of the company's vehicles will be developed locally.
"The funny thing about electric vehicles is that many people think it's something that you need to offer to be compliant," Klaus Zellmer, president and CEO of Porsche North America, told China Daily. "We think we have to offer it because it's got so much potential."