Fairway to heaven: Wife's wishes help Pan prosper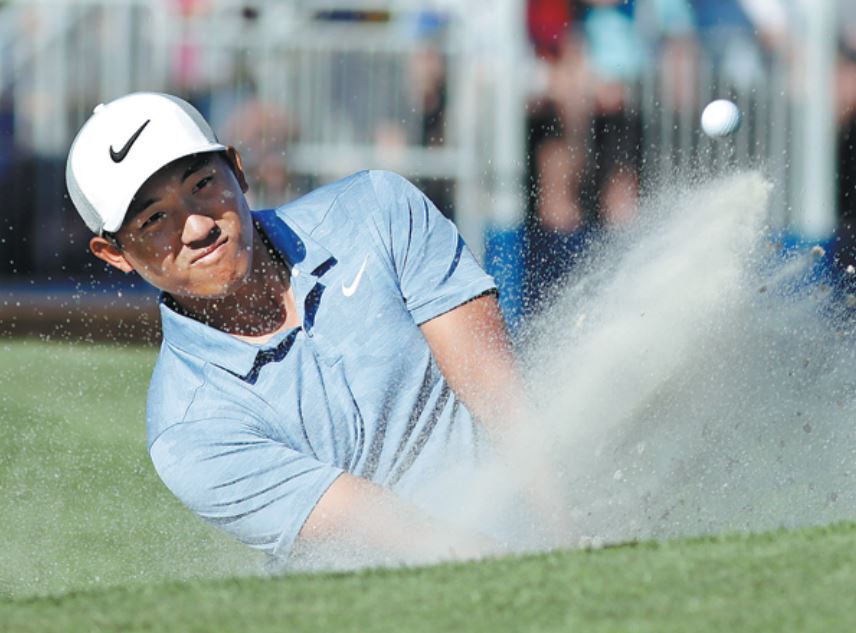 'She was right again,' admits Chinese Taipei golfer after breakthrough victory
Pan Cheng-tsung wanted to be with his wife Michelle last week, but now he's mighty glad she wasn't so keen on the idea.
Under orders from his better half, the 27-year-old from Chinese Taipei ditched other plans to play at the RBC Heritage in South Carolina-and the rest is history.
Pan, who goes by the initials CT, claimed his first PGA Tour win with a one-stroke triumph over Matt Kuchar as world No 1 Dustin Johnson stumbled badly on the back nine.
The win makes Pan the first player from Chinese Taipei to win on the tour since TC Chen beat Ben Crenshaw in a playoff at the 1987 Los Angeles Open.
Pan's breakthrough victory was as due as much to the stubbornness of his wife as his steely nerves.
"This week I'm having my first AJGA (American Junior Golf Association) events in Houston, which is a very big deal for me," Pan said about his work with the nonprofit organization.
"Unfortunately, my wife couldn't be here because she's in Houston handling stuff. We brought 10 kids from Taiwan for the tournament, and one of the girls we brought over won it. So this is one of the best weekends that I've ever had.
"I really tried hard to play well the first three months of the season in order to skip this week so I could spend time with the kids at my AJGA events.
"Obviously I didn't play well the first three months, so that's why I'm here. My wife told me to be here. She was right again."
Pan shot a 4-under 67 on Sunday to end a tense final round at 12-under 272.
Kuchar birdied his last hole for a 67 before seeing world No 113 Pan keep his cool to prevail.
Patrick Cantlay (69), Scott Piercy (69) and Ireland's Shane Lowry (70) tied for third at 10-under. Overnight leader Johnson had a horror round of 77 to finish 4-under.
"It's something I always dreamed about when I was younger," Pan, a former University of Washington player, told CBS.
"I watched Tiger (Woods) play when I was growing up. That's why I came to the US, that's why I went to college to go through all the necessary steps to be here. I am very, very happy that I finally did it."
Pan's wife isn't the only member of the family to help motivate him.
"My mom, she's a caddie. And my dad worked at a golf course where I practice," said Pan.
"One day my dad told me and my brother that he believed this sport has really good potential in the future, but obviously I didn't know anything back then.
"But it was right at the time, 1996, I believe, that Tiger was coming on like crazy. My mom still works at the club, so I missed her here this week."
Pan paid special tribute to his late father.
"I can remember all our nights watching the Masters or PGA Tour events together, watching Tiger Woods winning. And my dad would tell me, 'Hey, I want you one day to do that for me.'
"Well dad, we've finally done it!"
Along with a check for $1.242 million, the victory opens a world of opportunities for Pan, including a tour exemption through 2020-21 and entry into next year's Masters.
It looks like his wife, who is usually his caddie, will get the week off at Augusta National.
"My wife and I watched Tiger winning last Sunday and she was like, 'Hey, I'm not patient at all, so you better get me there as soon as possible'," Pan said.
"She doesn't want to caddie for me in the tournaments anymore; only the par-3 events. So now I can fulfill my promise to her."
China now looks like it will have at least two representatives on Ernie Els' International team for December's Presidents Cup in Melbourne, Australia, with Pan's triumph propelling him into the reckoning with Li Haotong.
"It would be my biggest honor to play under captain Els, I definitely want to do my part to win the Presidents Cup," said Pan.
"I mean, we don't have a Ryder Cup in Asia. And I just feel it's kind of unfortunate for the golf fans back home.
"I think the Presidents Cup will be something like that... and maybe it will inspire more kids to play golf or inspire more people to follow golf."