'Miracle' grass spreads wonder of mushrooms
Share - WeChat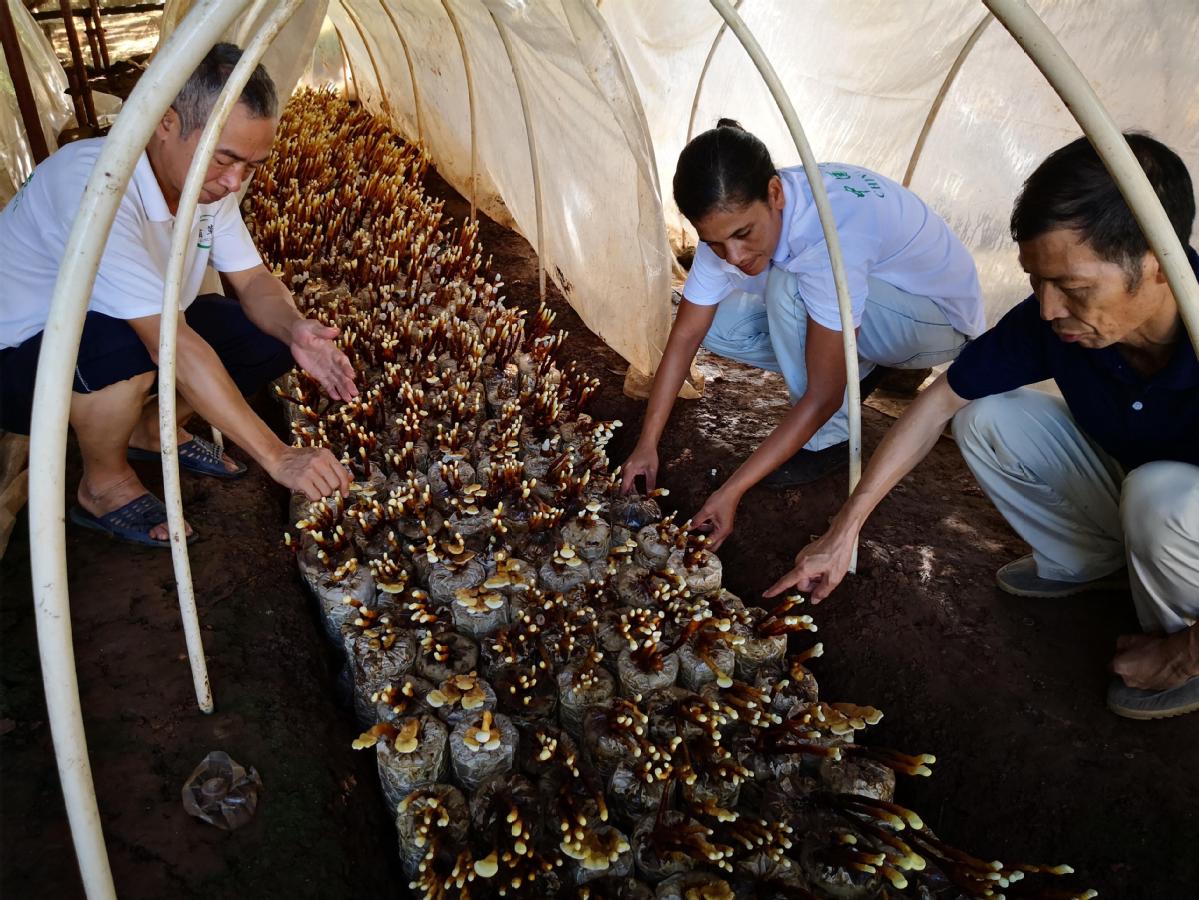 Chinese technology improves livelihoods, promotes sustainable agriculture worldwide
In the southern African country of Lesotho, known as the "kingdom in the sky" because of its high altitude, a song about mushrooms is quite popular among local women.
Lyrics of the song, Seven-Day Mushroom, which was written by women from the Mabote Mushroom Association of Lesotho, go like this: "Some people say it is a wild crop, some people say it is the economic lifeline. Oh, see this crop, an amazing crop. It is food, medicine and hope."
The song describes the Chinese technology known as Juncao, by which nutritious mushrooms are grown in chopped grass instead of wood logs. (In Chinese, jun means mushrooms and cao means grass.)
Juncao technology was first introduced to Lesotho in 2007 through the China-Lesotho Juncao Technology Cooperation Project. It is especially suited to the situation of Lesotho, where agriculture is an important source of employment, with the majority of the population living in rural areas and making a living from small-scale farming.
"Mushroom production needs a small amount of capital investment using the locally available substrates for its production," said Mahala Molapo, Lesotho's minister of agriculture and food security.
"It makes quick and good returns, as it requires a small space and takes a few days to grow and reach maturity. It can be produced well in periurban (adjacent to an urban area) and rural areas."
Molapo shared the benefits of mushroom production last week at a gathering at United Nations Headquarters in New York. The High-Level Meeting of Juncao Technology: Concrete Contribution of the Belt and Road Initiative Toward Synergies With the 2030 Agenda for Sustainable Development was co-organized by the Chinese government and the UN Department of Economic and Social Affairs.
Through the collaboration, six varieties of mushrooms were provided to start the mycelium bankmycelium is the vegetative part of the fungus - at Lesotho's Department of Agricultural Research with support from Fujian Agriculture and Forestry University, the birthplace of Juncao technology. A Central Mother Unit was established for use as a mushroom demonstration base.
Three Juncao mushroom production cooperatives have been formed so far, said Molapo. "The mushroom entrepreneurship is growing across the country, from four districts to all 10 districts," he said. "The number of trained technicians and farmers in mushroom production is approximately 800, with female farmers dominating in numbers."
On average, farmers can generate income in seven to 10 days after planting mushroom substrate packs. As the Lesotho song goes: "I planted last Thursday, taking care just like a child. Today is Friday, I harvest, I cook the mushrooms and I even sell. Hurry, or you will regret."
In addition, 1,200 kilograms of fresh mushrooms can be produced in an area of 10 square meters in a year, according to data from Fujian Agriculture and Forestry University. According to a university report, the annual output value of a one-hectare Juncao mushroom farm is about $300,000, which can provide at least 30 jobs.
Beyond Lesotho, Juncao -known as "miracle" grass - is showing its charm in many ways around the world as well.