Street dancers turn on the style
Share - WeChat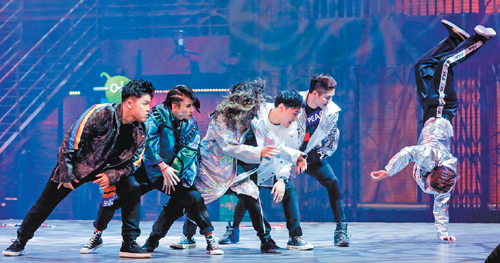 Skill, creativity and individuality on display as moves gain acceptance
Han Yu's parents used to worry that he would turn out to be a "bad boy".
As a teenager, Han used to spend lots of time dancing to loud music on the street, clad in loose, baggy outfits.
Now, the 30-year-old has his own dance studio and teaches thousands of students in China, from children to adults, amateurs to professionals.
"I never expected that street dance would become my career, let alone make a living from it. I just love dancing because it is about self-expression and makes me feel confident," said Han, who was born and raised in Wuhan, Hubei province.
"Nowadays, street dance is accepted by the mainstream and has become a popular culture among people of different ages," he said.
Street dance, or hip-hop dance, emerged in the United States in the late 1970s. It includes a variety of styles, such as breaking, locking and popping.
In February, organizers of the 2024 Olympic Games in Paris proposed adding the hip-hop style of break dancing as an Olympic event. The idea was given a trial run at the 2018 Youth Games in Buenos Aires, Argentina.
In China, street dance has taken root for reasons such as internet exposure, high-profile celebrity collaborators and televised competitions, leading to plenty of enthusiasts.
Han fell in love with hip-hop dance when he was 13 after watching music videos of Michael Jackson and K-pop stars from South Korea, such as the boy band H.O.T. He went to Shanghai to study hip-hop dance when he was 15.
In 2011, Han won in the locking and hip-hop new style categories in the Juste Debout China international street dance competition, which was first held in 2002 in Paris, the French capital. In 2012, he again won in the locking category in the same competition.
"I danced at least eight hours a day. It was encouraging to win those international awards," Han said.
Most Popular