Setting a new gold standard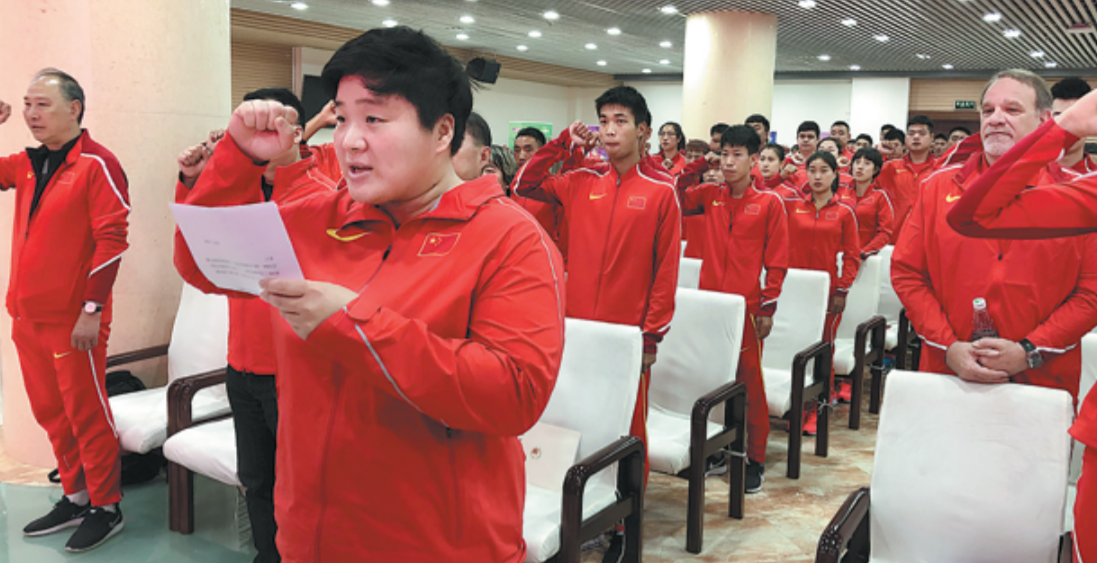 Team China looking to dominate at upcoming Asian Championships
Next week's Asian Athletics Championships in Doha will serve as a test run for Team China ahead of October's world championships in the Qatari capital.
Team China is comprised of 132 athletes and officials for the April 21-24 tournament. A support team of 26 trainers, sports scientists and medical personnel is already in Doha, getting acclimated for the continental challenge.
"To become a world athletics powerhouse, the first step is become an Asian athletics powerhouse," Yu Hongchen, deputy president of the Chinese Athletic Association, said at Wednesday's mobilization meeting in Beijing.
"Through the winter training and tournaments earlier this year, some of our athletes have made breakthroughs. However, many of those competitions were in China and the athletes were surrounded by familiar faces and eating familiar foods. It's a challenge to compete in Doha, where the weather is very different."
Maintaining a competitive edge at the Asian Championships won't be an easy task.
"The landscape has already changed from being a competition among China, Japan and South Korea to the growing rivalry between China and West Asian countries," said Gesangciren, coach of Chinese long-distance runner Duobujie, who won bronze at last year's Asian Games in Jakarta, Indonesia.
"China and Bahrain were tied for first place in athletics gold medals at the Asian Games. We were called the strongest athletics country only because our final medals total was the highest. We have to keep a clear mind and be confident of beating any opponent."
Two of Team China's brightest stars are sprinters Su Bingtian, who holds the Asian record of 9.91 seconds in the 100m, and Xie Zhenye, who also broke the 10-second barrier with a personal best of 9.97. They will not compete in the 100m sprint next week, but will team up in the 4x100m relay.
While Su has shown great momentum this season by claiming golds on the European circuit, Xie has been sidelined by injuries since last July.
"I haven't competed in a major international tournament since last summer," said Xie, who is China's biggest threat in the 200m.
"I'm eager to compete, but I'm still a little nervous. This year, without doubt, the world championship is our priority. In terms of the 200m, my goal at the Asian Championships is to secure my ticket to the worlds.
"Personally speaking, I want to return to the highest podium this season, but I know there are many competitive runners. Compared with last season, I'm now more stable ... and I had some solid training while recovering from my injuries."
Another Team China star is shot putter Gong Lijiao, who bagged gold at the 2017 worlds in London and maintained her momentum through the 2018 season, notching Diamond League victories in Shanghai and Monaco, followed by Asian Games gold in August and a victory at the IAAF Continental Cup in the Czech Republic a month later.
"I'm a veteran on the team so I feel that I'm shouldering more responsibility," said the 30-year-old, who won her first world championship medal in 2009 at Berlin.
"I'm now competing with myself. Along with winning gold at the Asian Championships, I want to reach my goal of throwing between 19.30 and 19.50 meters.
"Winning at the 2017 worlds made me more confident, so hopefully I can defend my title in Doha."
As the only Chinese athlete who has set an Asian record this season, javelin thrower Lyu Huihui is also ready for the challenge in Doha.
"Setting the record was quite unexpected for me," said Lyu, who beat her own mark of 67.69m with a throw of 67.72m at last week's National Track and Field Grand Prix in Huangshi, Hubei province.
"I'm pretty relaxed for the Asian Championships. I just want to show my strength and seize the opportunity on every throw. There's still room for improvement."