Xu primed to make a 'Monster' stride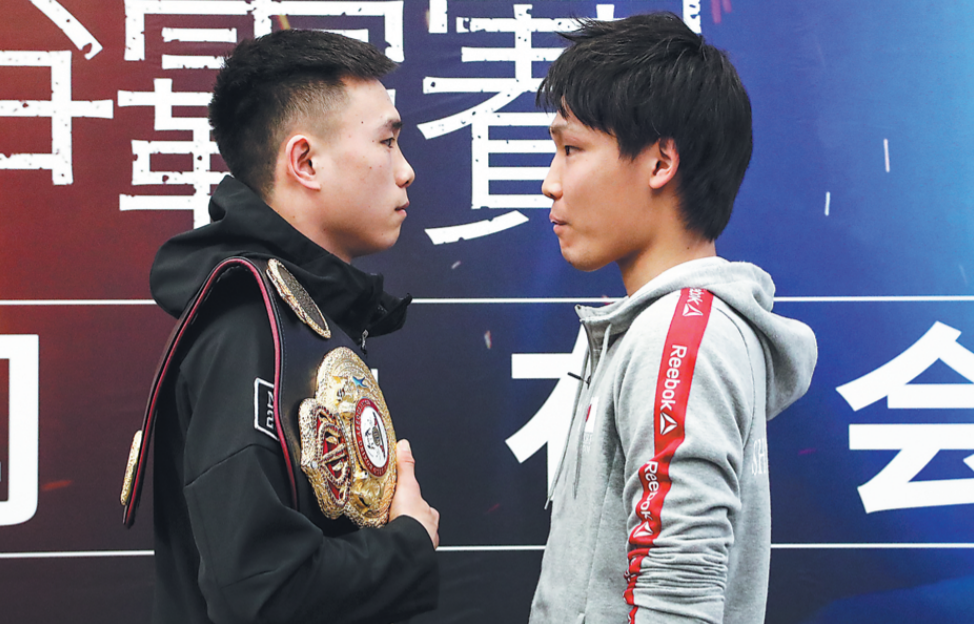 China's world champ will face Japanese lefty in Jiangxi, May 26
It's show time for the man they call 'Monster'.
Xu Can, China's reigning World Boxing Association featherweight champion, is vowing to take a giant stride toward unifying the fragmented title with a strong defense against southpaw Japanese challenger Shun Kubo on May 26 in Xu's hometown of Fuzhou, Jiangxi province.
If the actual punches match the hostility of their war of words, fight fans are in for a treat.
Ahead of what will be Xu's first defense since wresting the crown from Puerto Rico's Jesus Rojas in Houston, Texas, in January, Kubo, the former WBA super bantamweight champ, wasted little time in tossing some verbal bombs at a Beijing media conference to announce the fight.
"I don't care (about having to fight in his hometown), it will be me who brings the belt back to Japan," Kubo said on Friday at the capital's M23 boxing club, where Xu trains.
The champ didn't take the bait.
"He's talking nonsense. That's impossible," responded the 25-year-old Xu, who goes by the ring moniker Monster.
"I'm not going to allow anyone to take that belt out of my house. He might be a tough fighter and a strong challenger, but it's me who is hungrier.
"It's more satisfying to prove I own the title by successfully defending it than by winning it the first time."
The featherweight (126 pounds) champions of the other three major sanctioning organizations are Garry Russell of the US (WBC), Josh Warrington of Britain (IBF) and Oscar Valdez of Mexico (WBO).
By defeating Rojas via a 12-round unanimous decision, Xu improved to 16-2(2 KOs) en route to becoming the third Chinese to win a professional world title, following pintsized puncher Xiong Chaozhong (former WBC strawweight champ) and two-time Olympic gold medalist Zou Shiming (ex-WBO flyweight titleholder).
With Xiong and Zou now retired, Xu has emerged as the face of pro boxing in China, an honor that fuels his deceptively quick and accurate technique.
"My advantage against any opponent is speed and range, but it's the same case for Kubo as he is similar to me in size," said the 5-foot-9 Xu, who fights for Beijing-based Max Power Promotions.