Tiger Woods thrills at Masters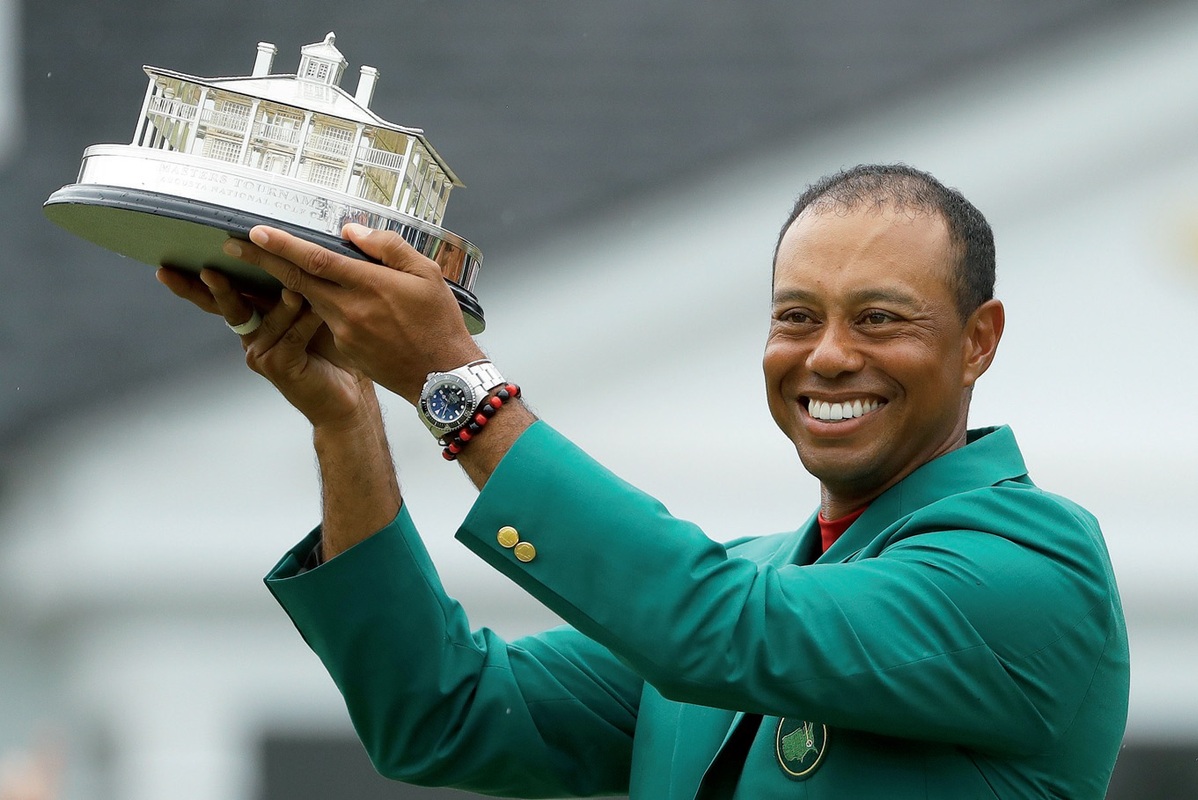 One of the most electrifying performers in sports outdid himself on Sunday.
Tiger Woods won his fifth Masters golf championship at Augusta National in Georgia, capping a rousing final-round comeback for his first major victory in 11 years and first Masters' green jacket since 2005.
Woods, 43, now has won 15 major tournaments, three behind "The Golden Bear" Jack Nicklaus, 79, who has 18 majors overall, including six Masters.
Woods finished at 13-under par 275 on Sunday to become the oldest Masters champion since Nicklaus won his sixth at age 46 in 1986.
"A big 'well done' from me to Tiger," Nicklaus tweeted. "I am so happy for him and for the game of golf. This is just fantastic!!!"
"Love people who are great under pressure. What a fantastic life comeback for a really great guy!" US President Donald Trump tweeted.
"Congratulations, Tiger! To come back and win the Masters after all the highs and lows is a testament to excellence, grit, and determination," former US president Barack Obama wrote on Twitter.
Woods' two-under par 70 in the final round clinched a one-shot victory over Dustin Johnson, Brooks Koepka and Xander Schauffele. It also was the first time Woods won a major having trailed after 54 holes.
Woods' girlfriend Erica Herman, mother Kultida and two children, daughter Sam and son Charlie, watched while a sprawling gallery roared as if at a rock concert as Woods marched up to the 18th green to close out the victory.
When he sank his final putt, Woods, clad in his signature Sunday red shirt, delivered one of his trademark fist pumps then raised both arms in the air, screaming with joy as the crowd chanted his name.
"I was just trying to plod my way along the golf course all day," he said. "When I tapped the putt in, I don't know what I did, but I know I screamed.
"To have my kids there — it's come full circle. My dad was here in '97 (when Woods won his first Masters), and now I'm the dad with two kids there," Woods said.
Having had to cope with four back surgeries and multiple knee operations along with a public divorce and some tabloid scandals, Woods underwent a back fusion in 2017 and slowly regained his form.
Woods, who once said his children saw him only as a You Tube legend, said he wanted them to see him win. They were at the 2018 British Open when he held the lead briefly.
"I wasn't going to let that happen to them twice," he said. "To let them see what it's like to have their dad win a major championship, I hope it's something they'll never forget."
Italy's Francesco Molinari led after three rounds on Saturday and was paired with Woods for the final round, which was moved up to 9 am EDT because of an ominous weather forecast.
Molinari and Woods also had been paired in the final round of last year's British Open in Carnoustie, Scotland. Woods faltered the back nine then while leading, and Molinari went on to win.
But on Sunday, the 36-year-old from Turin, Italy, hit into the water on the 12th and 15th holes. Those two double bogeys derailed his title quest.
Woods hit onto the green on the 15th, setting up a two-putt birdie for his first lead of the final round. The knockout punch came on the 16th, when Woods' tee shot rode the slope just by the cup and settled 2 feet away for birdie, giving him a two-stroke lead with two holes to play.
Six players had a share of the lead at some point on Sunday. With the final group still in the 15th fairway, there was a five-way tie for first.
"It's an unreal feeling, just to have it all come together at the right time," Woods said later in an interview on CBS. "I just felt I was in control of what I was doing out there. I was very disciplined when I was going out there this week, and it paid off.
"This is not over yet," Woods said he cautiously told himself on the 18th hole Sunday. "Arnold Palmer lost the Masters (in 1961) with a double bogey."
Molinari had played 49 consecutive holes without a bogey until Sunday. But it was the double bogeys that cost him, and he was gracious in defeat.
"I think I made a few new fans today with those double bogeys," he said.
Reuters and The Associated Press contributed to this story.