Orpheus Chamber Orchestra made China debut with show in Tianjin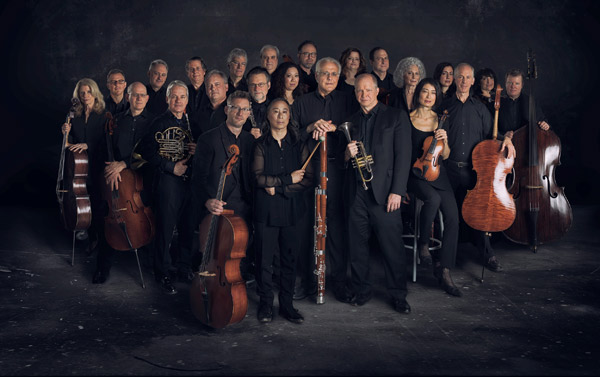 The Orpheus Chamber Orchestra made its debut in China with a performance at the Tianjin Grand Theater on April 12.
The Tianjin performance, which is part of its Asian tour, featured pieces with Russia as the theme, including Pyotr Ilyich Tchaikovsky's Serenade for Strings in C Major, Op. 48 and Anton Arensky's Variations on a Theme by Tchaikovsky, Op. 35a, according to Christof Huebner, viola player and one of the three artistic directors of the orchestra.
A self-governing organization, the Orpheus Chamber Orchestra was founded in New York in 1972 by a group of fellow musicians who aspired to apply the chamber music principles of individual participation and personal responsibility to an orchestral setting. And central to the orchestra's founding principles was the musicians' commitment to rehearse and perform without a conductor.
"We usually start with what we call a 'core' rehearsal, involving only the principals of each orchestra section, which is then followed by rehearsals with the entire orchestra. Since we play without a conductor every musician is encouraged to participate in the rehearsal process. This model is quite different from the traditional way an orchestra (with a conductor) rehearses. We call it the 'Orpheus Process'," says Huebner, who was born in Vienna, where he attended the Vienna Conservatory and subsequently the Wiener Musikhochschule.
"Any performance by the orchestra is rather intense and engaging. The audience will be able to observe the close collaboration and interaction by the musicians during the performance which is very captivating, and which results in a very spontaneous and visceral performance style," adds Huebner.
He says that the total number of musicians in Orpheus is 34 although the group, which performs in China is a bit smaller, since the repertoire does not require the full instrumentation.
Tchaikovsky composed Serenade for Strings in C Major, Op. 48 in 1880 when he was 40 years old, to pay tribute to his musical idol, Mozart.
And Variations on a Theme by Tchaikovsky, Op. 35a, is a piece written by Russian composer and pianist Arensky for string orchestras. Written in 1894, the year after the death of Tchaikovsky, the piece is seen as a tribute to the composer.
American composer Christopher Theofanidis' work, Chamber Symphony No 1 in D Major after P. I. Tchaikovsky's String Quartet, Op. 11, which was commissioned by the orchestra last year, premiered in China during the second half of the show in Tianjin.
Speaking about his composition, Theofanidis, who studied many of Tchaikovsky's works, style, says: "I have always been a great admirer of Tchaikovsky's music and his brilliant orchestration. But one clue for me, however, turned out to be Tchaikovsky's love of Mozart. ... There are enough clues to show what Tchaikovsky loved in that clean sound world, and that was an important key for me."
Theofanidis recorded his composing process on his website.
After Tianjin, the Asian tour will take the orchestra to Hong Kong, Taiwan and Japanese cities, including Osaka and Tokyo.