Explore the artistic and literary aesthetics of Helsinki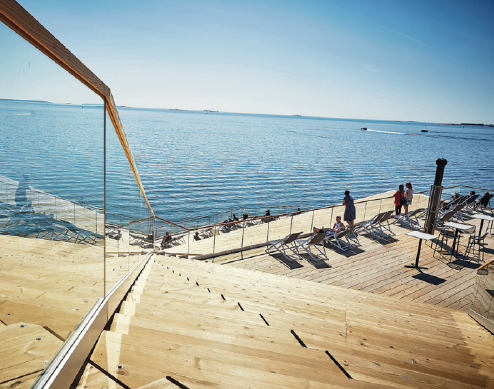 Find their art equivalent in vibrant galleries such as Helsinki Contemporary and Turku Art Museum. Galerie Forsblom, one of the largest contemporary art galleries, hosts work by emerging and young artists. The legendary Marimekko is also on these streets, the fashion and home furnishings store founded in 1951 by Armi and Viljo Ratia, which has more than 3,000 patterns in its archives.
Every Finnish home has at least one item - the brand went global when Jacqueline Kennedy wore its fashion in the 1960s. Each May, the fashion house continues to open the summer season with a free open-air fashion show at Esplanade Park in the city center, showcasing its latest wares.
When the locals aren't reclining in libraries and design labs, you can find them looking after their own mainframes. About 99 percent of Finns visit the spa once a week, both to socialize and relax. Start with the architecturally stunning Loyly, which features both traditional smoke and wood-burning public saunas, with room for 20 people, as well as smaller private saunas for those who prefer their own space. Loyly's huge front terrace lets visitors succumb to the stupendous views across the Baltic Sea and even take the dramatic staircase down to it. The space also has a bar that serves the Kyro Distillery's Napue gin, winner of the gin and tonic category at the 2018 International Wine & Spirit Competition.
And there's the Allas Sea Pool, a marine spa and oasis of urban culture in the heart of the city, just a stone's throw from Market Square.