Beijing keeps up pressure on pollution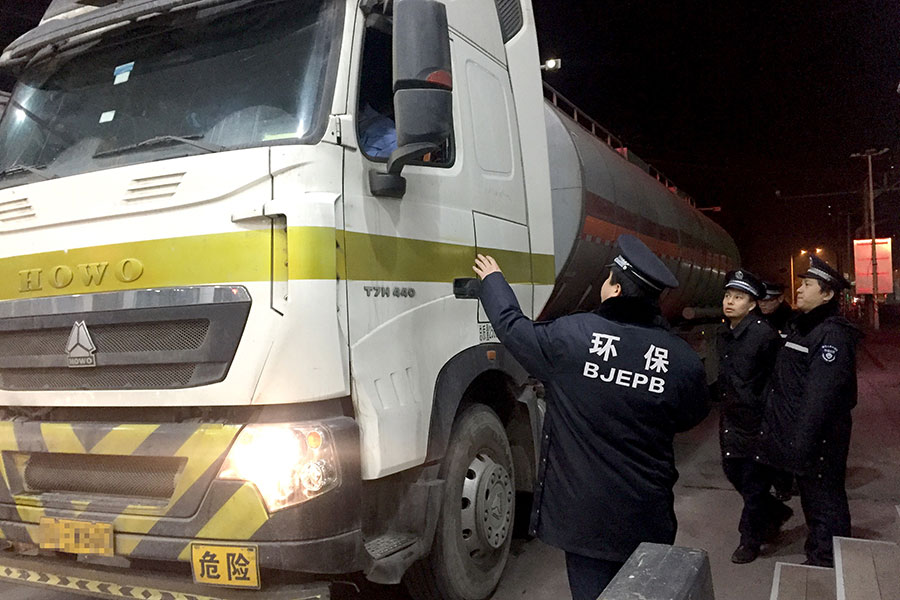 Editor's Note: After 40 years of high-speed growth, China's economy has entered a high-quality development phase. China Daily is featuring a series of reports to show the new landscape across the country.
Beijing's top environment watchdog aims to further curb the emission of pollutants-especially tiny PM2.5 particles that can enter the bloodstream-by promoting the use of new energy cars and gradually replacing old diesel trucks.
The measures are part of municipal growth plans to give the capital a bluer sky and cleaner air.
"We will continue to improve air quality in Beijing, with the city's average annual concentration of small particles and its three-year average concentrations level continuing to drop this year," Yu Jianhua, deputy director of the Beijing Municipal Bureau of Ecology and Environment, said at a recent meeting promoting high-quality development in the capital.
Dust management will also get more meticulous attention, Yu said. An integrated video surveillance regulation for dust control covering the whole city will be released, and industries involved in curbing it will share information through the internet.
The average concentration of PM2.5-hazardous particles with a diameter less than 2.5 microns-dropped to 51 micrograms per cubic meter in 2018, down 12.1 percent from the previous year. However, PM2.5 levels in Beijing last year were still much higher than the national average of 39 mcg per cu m, and the national goal of 35 mcg per cu m.
PM2.5 is a closely monitored air pollutant because its potentially serious effects on human health.
The World Health Organization recommends an air quality standard for PM2.5 of no more than 10 mcg per cu m.
Data from the capital's ecology and environment bureau shows that vehicle exhaust is responsible for the largest portion-45 percent-of PM2.5.
Reducing emissions from manufacturing sites in the suburbs is also essential to curb air pollution, Yu said. In 2019, the capital will phase out 300 manufacturing and pollution-intensive enterprises, as well as relocate and regulate industrial areas in counties and villages.
A prevention plan to further prevent air pollution will be established in the Beijing-Tianjin-Hebei province region, he added.
In July, the State Council released a three-year action plan to curb air pollution by 2020. The plan aims to achieve good air quality in major cities during 80 percent of the year. The average PM2.5 concentration is expected to drop 18 percent from 2015 levels.
Beijing also aims to improve its water quality and tackle soil pollution in 2019 by strengthening treatment of tainted water and tightening heavy-metal disposal standards.