Homestays raise incomes and living standards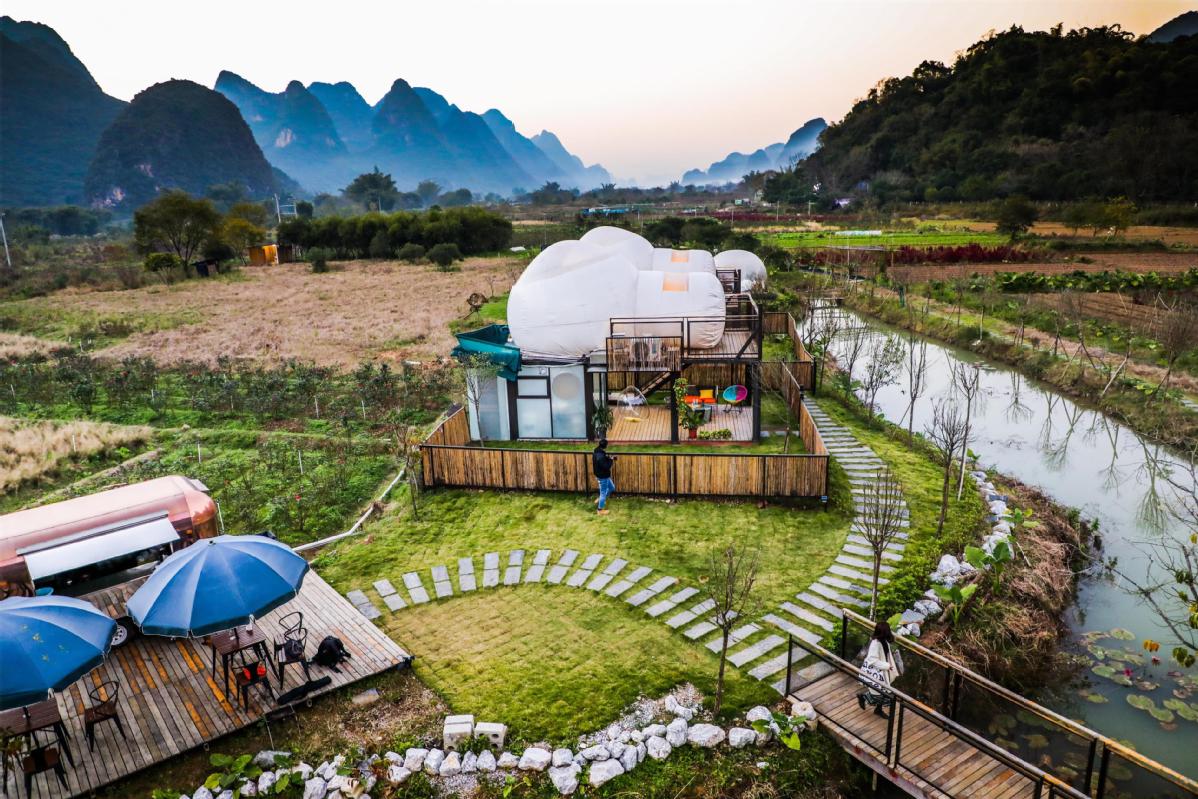 Those in the gold category are recognized as high-level accommodations and must offer higher-quality services and infrastructure than those in silver, the next level down.
Some provincial governments have introduced regulations tailored to local conditions.
In May last year, a report said that by the start of 2017, more than 70 percent of homestays in Zhejiang had been licensed to offer services to guests, and the provincial government had issued about 120 guidelines to ensure a better environment for homestay operations.
In June, to better regulate the market, the Shanghai government released requirements for rural homestays. They stipulated that facilities in the city's outskirts must adhere to strict standards for food, safety and sanitation.
Poverty alleviation
Despite concerns about management and safety, rural homestays have breathed new life into the countryside by encouraging younger rural dwellers and industry players to start businesses in backwaters.
According to a November report by the World Tourism Alliance and Airbnb, the company has channeled resources into a number of undeveloped areas with good natural scenery to help villagers build their own homestays and improve their incomes.
In November, six renovated bedrooms were opened on Airbnb in Jinjiang, a State-level impoverished village in Guilin, Guangxi Zhuang autonomous region, after the company signed a cooperation agreement with the Guilin Tourism Development Commission in October 2017.
Yang Guodong, the tourism commission's project coordinator, said both he and the villagers were initially suspicious of the project.
"The village enjoys quite good natural resources, but the average annual income remains at about 4,000 yuan per capita," he said.
"The designers chose two shabby, disused houses owned by poor residents. At the time, we had no idea what they would be like after renovation. The senior villagers were rather conservative and said the project would alter their lives irrevocably (by appropriating local farmland and bringing outsiders into the community), which posed challenges to pushing the project forward."
He said the distrust gradually disappeared after the villagers were invited to join the project to undertake work such as bricklaying, design and house cleanups for a daily payment of about 200 yuan each.
Zhong Yiming, project director at Airbnb, said the 1.3 million yuan spent on renovation covered refurbishing activities and villagers' wages, while all the expenses were absorbed by the company. The villagers are also given a share of the earnings via a dividend.
"After opening in November, the six bedrooms earned 20,000 yuan in just one month," he said. "I feel really proud, because we helped the villagers gain the confidence to make money in effective ways. People who live in poor areas definitely have a strong desire to become richer, but sometimes, they just don't know how to start."
He added that Airbnb will transfer ownership of the facilities to the local residents free of charge once they have been properly trained.
Liao Weiwei, a 32-year-old Jinjiang resident, plans to open a homestay this year. "I used to drive 10 kilometers to work, but now, I want to have my own homestay in the village to offer travelers a homelike lodging place," he said.