Coming shoe boom's sneak preview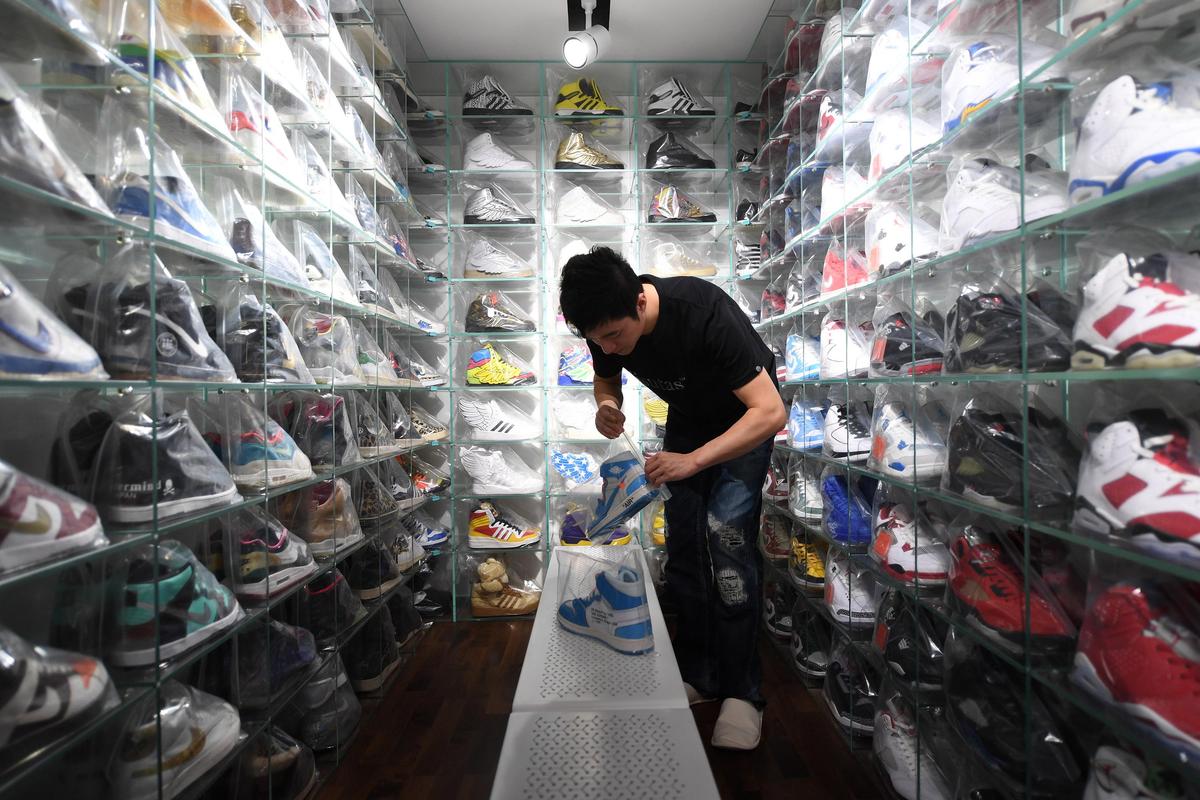 As local label Kiks' impact on street fashion kicks in, sneaker segment rocks
One chilly January afternoon this year, hundreds of youngsters, all lovers of sneakers - they call themselves "sneakerheads" - lined up outside Beijing's Langyuan Vintage Park for one of their most important events of the year: Nike Air Max.
It is an event where Nike showcases its next collection of trendy footwear. The youth braved the vicious winter to lay their hands on the latest street fashion.
Thousands of other visitors turned up too. Among them were celebrities such as actress Zhou Dongyu, fashion designer Edison Chen and actor Bai Jingting.
Serpentine queues are common outside exclusive brand outlets and other stores where new products are launched. Sneaker culture is no exception.
There was a time when this trend was popular among the African-American community. Now, however, it is spreading in China among the country's youngsters. Street fashion is on the rise, industry insiders said.
"I started to sell sneakers in university, and I made my first million yuan after graduation," said Li Baofeng, founder of Kiks, a sneaker magazine and store chain.
Li is also a diehard sneakerhead. He owns over 1,000 pairs of sneakers. He keeps buying at least a pair every week "to stay passionate about the business".
"There is a pyramid-shape structure of consumers in China. The top layer has the real sneakerheads. I guess there are about 1 million of them. The next layer has general sports clothes buyers. Below them are regular consumers."
In the industry since the 2000s, he has witnessed its rise, changes, moods and trends. "At the beginning, there was a serious delay in the product launch date between the Chinese mainland and other places, and it was a business opportunity," he said.
Back in the 2000s, Li used to travel between Guangdong and Hong Kong by the cheapest bus, carrying over 30 pairs of popular shoes back in one gigantic sack.
"For delivery, I had to send all left shoes in one package and the right shoes in another to avoid trouble with border clearance. Back then, e-commerce was nascent and cross-border regulation was a grey area," he said.
He used to pack in a mountain of shoes in the cheapest hostel room in Hong Kong. "It was tough but I was really happy back then."
Not long later, two factors changed his business model - China's improved cross-border e-commerce regulations and saturation in foreign markets.
"Markets like Japan are saturated, but the brands need to sell more shoes, so the Chinese mainland market became their best choice," he said. "Now the release dates for new products in the Chinese mainland and other countries and regions are mostly synchronized."
Indeed, in recent years, especially after China urged its people to participate in sports and adopt a healthy, physically active lifestyle, sneakers have become a common fashion accessory. China has become a profound market for street fashion.
According to the Qianzhan Industry Research Institute, sports shoes, coasting on strong growth, have become the most eye-catching category in the clothing industry since 2017.
Official industry data for 2018 is yet to be confirmed, but sales are estimated to have reached 113.4 billion yuan ($16.9 billion), up almost 17 percent year-on-year.
Such growth has lured many big-name brands to expand their presence in China.
Shoemakers' hardsell became more pronounced in China in recent years. Last October, Nike launched its first flagship store House of Innovation in Shanghai.
Dennis van Oossanen, Nike vice-president of Greater China Direct-to-Consumer, said the company is committed to bringing the best products, after-sales service and shopping environment to Chinese consumers.
This February, the brand released its latest street look Nike Air Max 720 in China, to coincide with its launch in other countries.
To bring the design philosophy closer to Chinese consumers and inspire local designers, the brand recently invited a Shanghai designer, Ru Qiushi, to create sneakers featuring the vibe of Shanghai.
"The material I used to make layers in the shoes resembles the clouds afloat above Lujiazui district in Shanghai," said Ru.
Skechers, another California sneaker brand, also opened its largest store in Shenyang city in January.
"We are doing well in China, the millennial segment is having a big influence," said Willian Tan, CEO of Skechers China.
He believed not only the first- and second-tier city consumers but those in smaller places would buy their shoes as potential is immense there, given that the country's consumption power shows no signs of slowing down.
With big brands investing heavily in China, individual shoe vendors' competitive edge appears to have been lost, and the risk of violating the law in pursuit of quick sales may have increased. And he was also tired of working as a carrier of shoes.
"Of course, you can still be an individual sneaker buyer. Maybe, you earn 20,000 yuan or 50,000 yuan a month. Then what? Your business is not going anywhere," Li said. "But I want to be something different, you know, leave my footprint in this young industry. The only way is through legal and proper business."
Being an authorized retailer of several brands, his first shoe collection store Kiks opened last August in Beijing's most fashionable district Sanlitun. He is pondering expansion next, probably to Shanghai and Shandong this year.
But sneakers mean far more than business to him. A true sneakerhead, he said, wants to promote sneaker culture in China.
So, in 2014, he started Kiks, a young sneaker magazine. "We lost 10 million yuan when we first started," he said. "But now we can break even - a hard-earned achievement for the magazine business nowadays."