'The Red Lantern' signals the opening of a new cultural landmark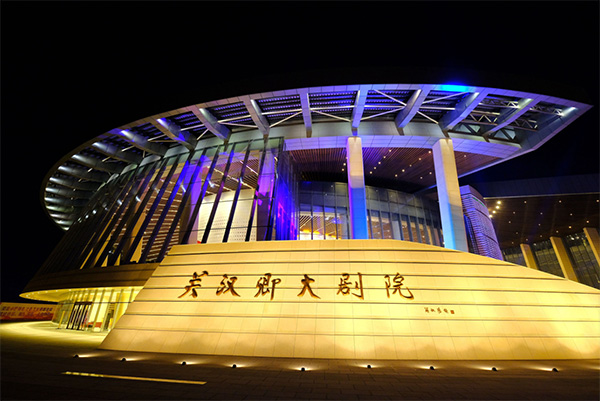 "The Red Lantern is a household name when it comes to modern Peking Opera," Bi says. "There are many Peking Opera fans in northern China, so the audience in Baoding should be quite familiar with this work."
According to the theater, the premiere was completely sold out and tickets for the entire opening season have been sought after by audiences. On March 6 alone, the day the tickets went on sale, over 3,000 were sold.
After eight years of construction, the Guan Hanqing Grand Theater - named after the Yuan Dynasty (1271-1368) playwright, Guan Hanqing - officially begins operating under the management of Beijing Poly Theatre Management Co Ltd, a subsidiary of Poly Culture Group.
The theater occupies more than 41,000 square meters, including a main theater hall of 1,401 seats and a multifunctional hall for lectures and other public events.
Jiang Yingchun, general manager of Poly Culture, says the theater's first open day in February welcomed over 40,000 visitors, and its WeChat public account attracted 20,000 followers on its first day of operation.
"We aim to build a platform for cultural exchange and cooperation, and promote the coordinated development of cultural resources across the Beijing-Tianjin-Hebei region," Jiang Yingchun says.
The theater brings a variety of performances that promise to satisfy diverse tastes. Apart from The Red Lantern, the opening season also includes traditional Chinese music concerts presented by China Broadcasting Chinese Orchestra, experimental plays by contemporary theater directors such as Stan Lai and Lin Zhaohua, and dance dramas presented by Yang Liping and Colombia's national ballet.
"The premiere not only marks the official opening of the Baoding cultural landmark to the public, but also means that the people of Baoding can now enjoy high-quality and low-cost performances at the same time as people in first-tier cities," says Zhao Qiguo, director of Baoding's bureau of culture, radio, television and tourism.