Pinning hopes on needlework
Share - WeChat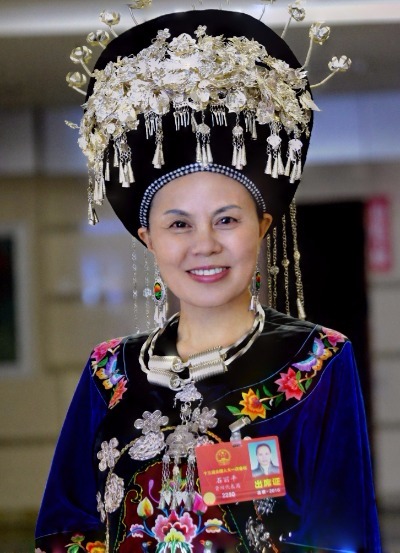 A Miao woman, a deputy to the 13th National People's Congress, uses embroidery to empower her people, Cheng Yuezhu reports in Beijing and Yang Jun in Guiyang.
For the past decade, Shi Liping has devoted herself to Miao embroidery, something that not only preserves the local people's cultural inheritance, but also contributes greatly to poverty alleviation efforts.
This is because works featuring the Miao embroidery of Songtao county, which was once hidden deep in the mountains, are now among the gifts presented by the United Nations and China's Ministry of Foreign Affairs.
Shi, who was born in 1966 in the Songtao Miao autonomous county of Guizhou province, was exposed to Miao embroidery from an early age, like every other Miao girl.
According to Shi, traditionally Miao girls learn how to embroider from female family members from as early as the age of 5. And they start embroidering full-time from 12, making clothes, shoes and bed linen for their dowry when they get married.
Most Popular