California embracing essence of wushu, Chinese martial arts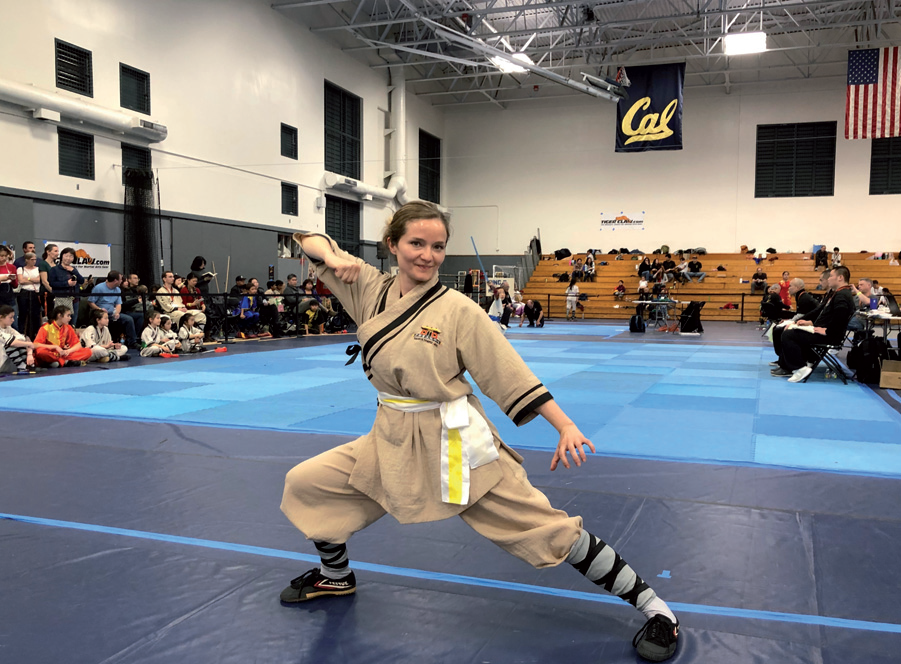 When 7-year-old Arya Brooke walked to the center of the ring, she immediately put her game face on. After a routine of Tongbi Fist, she won a gold medal in her age group at a Chinese martial arts tournament.
"I love being proud of myself, and I love going to competitions and performances, because everyone claps at all these people around me. My shifu (master instructor) is from a real monastery. I'm really happy I'm here," said Brooke.
The girl from Santa Cruz, California, has been studying kung fu for three years at the Shaolin Temple USA in Sunnyvale, California.
More than 100 members of Shaolin kung fu centers in the Bay Area participated in the 27th Chinese Martial Arts Tournament (CMAT) over the weekend at the University of California, Berkeley.
This year was the first that the CMAT, one of the largest and most popular Chinese martial arts events in the US, has added a Shaolin kung fu division.
"It's important to introduce culture to the students, so they don't just think wushu (Chinese martial arts) is just for fighting or exercise. It also comes with ethics, morals and how you interact with the society," said Bryant Fong, CMAT chair and head instructor of the wushu team at UC Berkeley.
He believes that Shaolin kung fu is good to practice for most people at any age, because it teaches basic movements, stances and posture and improves health. It also has a rich history and culture, he said.
Brooke's mother, Lara Brooke, learned of Shaolin kung fu because of the temple and from movies. Twice a week she drives more than an hour to the kung fu school, where her daughter spends one hour in class and another in team practice.
The benefits are "huge" in many aspects, said the mother. "Compared to other children, she has a really great capacity (to follow) instructions and discipline. And of course there are physical benefits of being active and flexible," she said.
Lara Brooke said she has talked with the school, hoping it can develop a program for children who have reached a certain level.
Bogdan Marchis and Joel Macard, both competing in the senior age group, said they felt benefits both physically and mentally.
"I'm in much better shape now than I ever was. I'm more flexible, and competitions like this make you more confident. I feel I'm happier when I do this," said Marchis, who works at Stanford University. Marchis learned of Shaolin kung fu from a wellness program that is a partnership between Shaolin Temple USA and the university's medical school.
Chinese kung fu has become increasingly popular in the US. In the Bay Area, various kung fu schools can been seen at malls in the region. The Shaolin Temple USA alone has around 800 members enrolled at its four centers in the Bay Area.
Twenty-seven years ago, when Fong founded the CMAT for University of California students, there were around 80 competitors. Today, it attracts around 500 participants, ranging in age from 5 to 60, who come from diverse ethnic groups and other countries.
"But if you go to tae kwon do or judo tournaments, it is obviously more diverse," said CMAT Director Michelle Yang, adding, "we are still lacking" when it comes to diversity.
To help people from non-Chinese backgrounds better understand wushu, Fong has designed handouts for his tai chi class and regularly gives lectures on wushu and the culture that it's related to.
"American culture doesn't have something like this, so if they don't have the same response (as Chinese students), we should find ways that we can make it easier for them to understand what it is we are doing," said Fong, also president of the National Chinese Wushu Association of America.
He was trained for the Beijing Wushu Team in 1980, and was among the first American students sent to study in China.
"When I started learning wushu in Beijing, the first thing they taught is wu de (ethics of wushu). Obviously, we don't do it here, but eventually we need to," he said. "Learning those ethical questions is important, so you have a stable way of knowing where you are supposed to be."
Traditional wushu was brought to the United States in the 1800s, when Chinese used it for defending themselves amid the anti-Chinese sentiment during that time, he said. It's not until the 1970s that modern wushu came from China.
Modern wushu is a sport developed by China to emphasize the dynamics and performance aspects of traditional wushu.