Science links integral to strong ties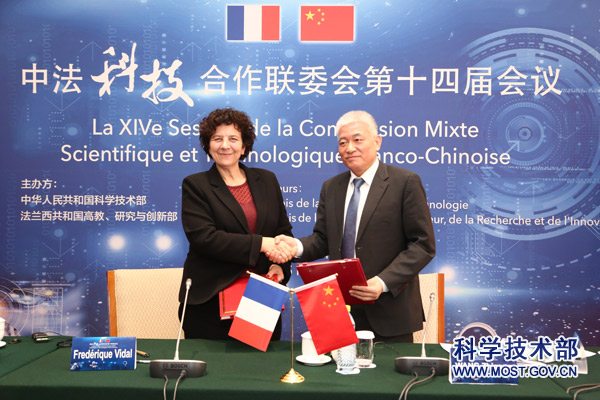 China and France will continue to enhance scientific cooperation in fields ranging from biomedicine to artificial intelligence, contributing to the socioeconomic development of both countries and the world, officials and scientists have said.
On Feb 25, top science officials from China and France met in Beijing to lay the roadmap for future Sino-French scientific cooperation. Both countries agreed to prioritize cooperation in public health, agriculture, artificial intelligence, advanced material, space, environment and particle physics.
Wang Zhigang, minister of science and technology, said Sino-French scientific cooperation has been an important driving force in bilateral ties. China will continue to enhance and expand practical cooperation, and improve planning and policy support for more effective communication and collaboration, he added.
Frederique Vidal, France's minister of higher education, research and innovation, said China and France have a tradition of friendly cooperation in many major scientific fields. She hoped both sides could work together in making Sino-French scientific cooperation more robust, open and with stronger mutual trust.
This year marks the 55th anniversary of formal diplomatic ties between the People's Republic of China and France. Last year, the two nations also celebrated their 40th anniversary of establishing state-level scientific cooperation, featuring fields such as nuclear energy, space and aviation, information technologies and biomedical research.
In 1997, China and France founded their first joint laboratory — the Sino-European Laboratory of Informatics, Automation and Applied Mathematics (LIAMA) — in Beijing. The lab has conducted important research ranging from detailed mapping of brain networks to artificial intelligence chips.
Tao Jianhua, the director of LIAMA, said the Chinese and French governments have shown great interest and foresight for developing artificial intelligence, and the two nations can complement each other in future research.