Pollution flow quelled after Jiangsu plant explosion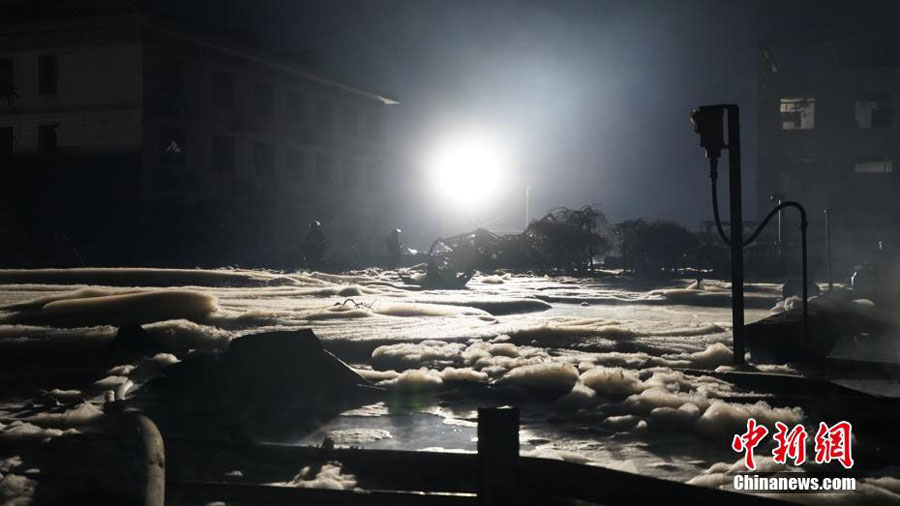 Rivers outside the chemical industrial park in Jiangsu province where a deadly blast killed at least 47 people have not been polluted, according to on-site checks.
However, local environmental authorities have taken measures to stop the polluted water inside the park from flowing out to contaminate outside waters, according to the Jiangsu provincial department of ecology and environment.
The explosion happened at about 2:48 pm on Thursday following a fire that broke out in a chemical factory located in an industrial park in Xiangshui county of Yancheng city, according to local authorities.
Rapid tests on water samples collected at 8:40 am found the water of three rivers inside the park was polluted by volatile organic compounds — chloroform, methylene chloride, dichloroethane and toluene. But no volatile organic compounds were detected in the water bodies of the three rivers outside the park, according to the Jiangsu provincial department of ecology and environment. For the most seriously polluted river, the dichloroethane and methylene chlorid concentration was about 2.8 times and 8.4 times higher than the standard, it said in a release.
Local authorities have taken action to cordon off the rivers to prevent the polluted water in the park from flowing outside, it said.
As for air pollution, an earlier release from the department said sulfur dioxide and nitrogen oxides in the atmospheric environment were dispersing and the concentration is moving downward. Other pollutants, including benzene, toluene and xylene, are now at normal levels.
There were no drinking water sources downstream of the explosion site and drinking water safety was not affected.