Turning words into deeds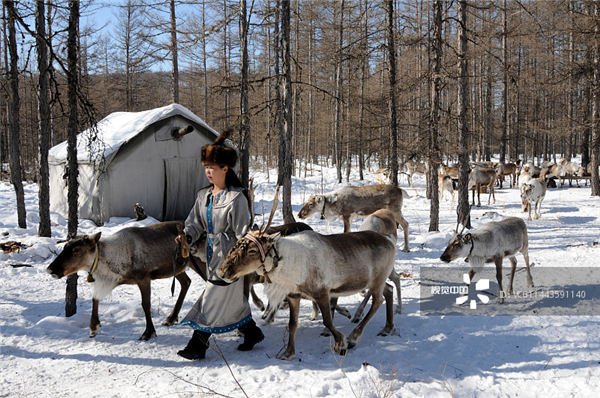 Author Chi Zijian uses her grassroots experience to make policy proposals to China's top political advisory body.
Chi Zijian was seen attending the annual session of China's top political advisory body in Beijing earlier this week.
Chi, a member of the 13th Chinese People's Political Consultative Conference National Committee, is considered one of the country's most influential contemporary writers. But she maintains a relatively low profile. Chi does not use social media, including WeChat, the popular messaging app.
During an interview with China Daily outside a meeting room at the Great Hall of the People, she spoke of Oluguya, the setting in one of her books - The Right Bank of Ergune River.
Oluguya is a small township inhabited by members of the Ewenki ethnic group in the Inner Mongolia autonomous region. The group, whose members live deep in the forests of the Greater Hinggan Mountains, is often described as "the last tribe raising reindeer in China". Chi published the novel in 2005, and it later became known in the West by its English translation, The Last Quarter of the Moon.
Inspired by her own experiences of living among the Ewenki people, the book is an epic following their history through the 20th century.
"The most important inspiration for writers is drawn from the world they live in," Chi says.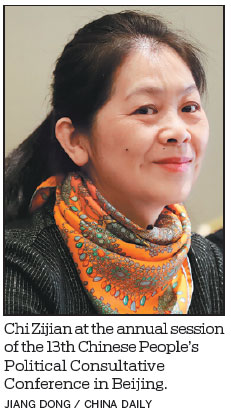 Chi, 55, was born in Mohe, Heilongjiang province, which is in China's far north. Now she lives in Harbin, the provincial capital, and continues to write stories of Northeast China.
The Right Bank of Ergune River won her the Mao Dun Literature Prize, China's top literary honor, in 2009. Chi is also a three-time winner of the Lu Xun Literature Prize, another top award.
"If there are writers who have observations on places familiar to them, they will contribute to the culture prosperity there, be it through plays, musicals or other forms of art. But writing is still the foundation," Chi says.
In 1990, when Chi visited Japan, she says she was asked whether she came from "Manchukuo", a Japanese puppet state from 1932 to 1945 in today's Northeast China. She felt humiliated by the reminder of that painful history. The trip made her undertake a comprehensive study of that history and she wrote the 700,000-character novel, Puppet Manchukuo, within the next decade.
Chi first rose to prominence in 1985 through her novella, Fairy Tales of the Arctic Pole Village, which is based on her childhood.