Trade talks expected to finalize deal
Share - WeChat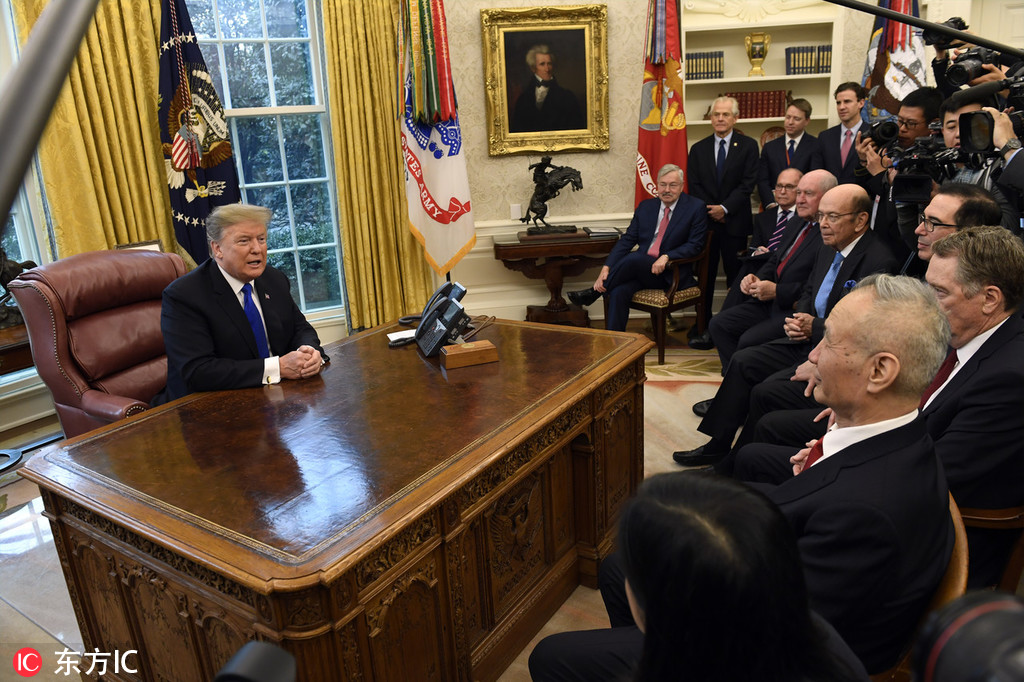 Beijing, Washington make progress on multiple issues, agree on more meetings
China and the United States are expected to come to an agreement soon over trade frictions, analysts said, as the negotiating teams are reported to be discussing the wording of an accord and considering applying the brakes to their tariff standoff.
They made the prediction after Chinese and US officials said there had been concrete progress on multiple issues in the latest round of trade talks in Washington.
During the latest talks, held from Thursday to Sunday in Washington, the seventh round since February of last year, the two sides focused on the text of an agreement, the Chinese delegation said, according to a Xinhua News Agency report.
The negotiators also had made substantial progress on such specific issues as technology transfers, protection of intellectual property rights, nontariff barriers, the service industry, agriculture and exchange rates, the delegation said.
On the basis of the latest progress, the two sides are expected to continue their work into the next stage, in accordance with the instructions of the two countries' top leaders, according to Xinhua.
State Councilor Wang Yi said Sino-US trade negotiations have once again made concrete progress and provided positive prospects for bilateral relations and the global economy. Wang, also minister of foreign affairs, made the remark at an event on Monday, according to a statement issued by the ministry.
Yao Yang, dean of the National School of Development at Peking University, said, "It is encouraging that both sides have begun to work on the text of an agreement, which indicates a speeding up toward sealing a trade deal."
"The progress also showed that effective economic diplomatic measures can help resolve cumbersome issues and reduce confrontation between two nations," Yao said.
After tit-for-tat exchanges of hefty import tariffs, President Xi Jinping and his US counterpart, Donald Trump, agreed in December to halt new tariffs for 90 days to allow for talks. Since then, negotiations have been conducted on a wide array of topics.
Early Sunday afternoon in Washington, Trump tweeted that he "will be delaying" the increase of tariffs on Chinese imports scheduled for March 1, due to "very productive" trade talks between the two countries.
Chen Bin, executive vice-president of the China Machinery Industry Federation, said the organization's member companies are optimistic because the extension of the March 1 tariff deadline should help both Chinese and US companies restore their ability to trade, while pacifying Chinese companies that have already invested heavily in machinery manufacturing in the US.
"It is increasingly evident that tariffs had negative effects — such as rising unemployment and slowing growth rates — not only in China and the US, but also in many parts of the world," said Xue Rongjiu, deputy director of the Beijing-based China Society for WTO Studies research institute.
The proposed tariff delay indicates economic rationality is prevailing and both countries are predicted to reach an agreement soon, Xue added.
Asa Hutchinson, governor of the US state of Arkansas, applauded both presidents for working hard to narrow the differences and reach more consensuses. "I am optimistic we will be able to reach an agreement because it is important for both countries," he said.
Cai Chunying in Washington contributed to this story.
Contact the writers at jingshuiyu@chinadaily.com.cn