UAVs meet females' need for handheld cameras
Share - WeChat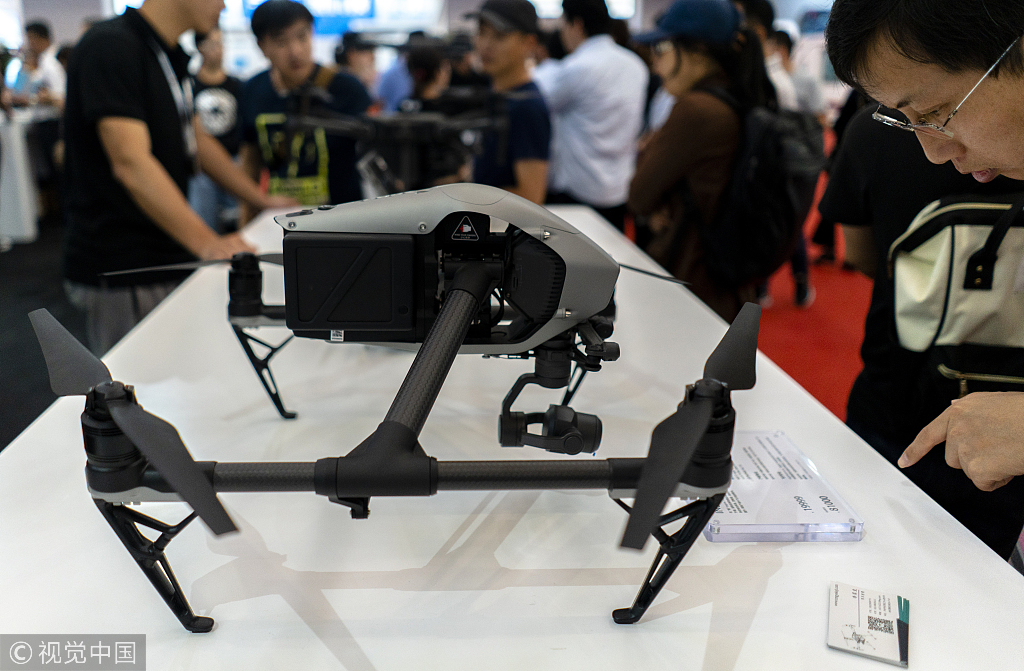 For photography lovers, a good camera could help capture for posterity splendid sights and colorful vignettes, making special moments memorable or unforgettable. Unsurprisingly, both amateur and professional photographers have found drones literally adding a whole new dimension to their images.
Aerial photography has an expanded meaning now, thanks to drones.
According to an International Data Corp report, shipments of drones used in aerial photography will surge to 3 million units by this year-end, with the compound annual growth rate reaching 68 percent.
After witnessing rapid growth in 2016 and 2017, China's consumer drone market seems to have reached the saturation point last year. So, DJI, the world's largest commercial drone manufacturer by market share, has decided not to confine itself to drones. It has expanded its reach to portable handheld cameras.
Apart from the Phantom and Inspire series, consumer-level camera drones now come in many models. They are mainly used in aerial photography and video filming. DJI unveiled a portable handheld camera named the Osmo Pocket in November.
Priced $349, the Osmo Pocket has DJI's smallest three-axis gimbal. The camera drone combines mobility and stability, and can record 12-megapixel photos and stable 4K videos.
The onboard touch screen displays a live view from the camera and can control camera and gimbal movements.
It weighs only 116 grams, and features intelligent shooting and object tracking features similar to DJI's latest drones. According to DJI, the photography and video industry has become the largest source of revenue for the company.
"The camera drone is set to change the way photos and videos are captured, not just by professionals but by parents, couples, adventurers, travelers, and everyone in between," said Luo Zhenhua, president of DJI.
I used the Osmo Pocket once, and found it to be very suitable for female consumers. The camera lens can follow the movement of the people, and you can easily capture the people or objects in the screen frame. You can grip it in your palm, and carry it around during trips, family events and adventures. Eminently portable, it fits in snugly in your pocket or bag.
In August, the Shenzhen, Guangdong province-based company launched the Mavic 2 camera drone series, which is aimed at professionals, aerial photographers and content creators.
It is the first time that the Hasselbald camera and optical zoom feature, which are typically found in professional imaging equipment, have been applied in DJI's range of consumer camera drones and related products.
Xie Tiandi, DJI's director of communications, said the company sees the proliferation of apps that offer short videos as an opportunity. More and more people are going to produce content like short videos, and a handheld, gimbal-equipped camera drone targeting the mass market would likely prove a hit, he said.
Founded in 2006, DJI is dedicated to making aerial photography and filmmaking equipment and platforms more accessible, reliable and easier to use for creators and innovators around the world. Its global operations currently span the Americas, Europe and Asia.