Hopes high with Sino-US talks ready to resume
By Zhong Nan, Zhou Jin in Beijing and Zhao Huanxin in Washington | China Daily | Updated: 2019-02-21 07:19




Share - WeChat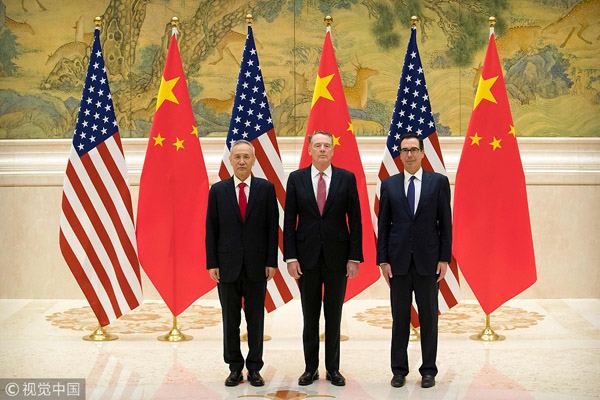 China hopes to work with the United States to promote consultation to achieve a mutually beneficial result in the seventh round of high-level economic and trade talks in Washington this week, Foreign Ministry spokesman Geng Shuang announced on Wednesday.
Experts said it is anticipated that the talks, on Thursday and Friday, will serve the interests of companies in both countries and meet the common aspirations of the international community.
The upcoming round of talks is the latest attempt to ease trade tensions ahead of a March 1 tariff truce deadline.
The talks follow the sixth round of high-level economic and trade consultations in Beijing on Feb 14-15.
Geng said on Tuesday that China hopes the two nations will jointly implement the important consensus reached by the two presidents during their meeting in Argentina, pick up speed and work together for a mutually acceptable agreement that produces win-win results.
China and the US have been learning and considering each other's rules, needs and problems through previous talks.
The continued high-level talks have shown that the two sides are trying to make the issues more clear and make adequate adjustments, said Chen Wenling, chief economist at the China Center for Economic Exchanges.
"The world economy and global supply chain will benefit if the two sides can resolve the dispute," she said.
The normalization of China-US relations has been one of the important elements contributing to China's process of reform and opening-up, said Xue Rongjiu, deputy director of the Beijing-based China Society for WTO Studies.
He said positive developments in Sino-US trade talks could underpin the world economy and help global stock markets start to recover.
China stocks closed higher on Wednesday, aided by hopes that Sino-US trade talks were making progress, with the benchmark Shanghai Composite Index up 0.2 percent at 2,761.22 points..
The trade talks with China have gone well and March 1 is not a "magical date", despite being previously set as the deadline, US President Donald Trump said on Tuesday.
Asked at White House how confident he was that China-US trade talks will be finished by March 1, Trump told reporters that they are complicated talks. "I can't tell you exactly about timing, but the date is not a magical date. A lot of things can happen," he said.
"I can only say that the talks with China on trade have gone very, very well," he said.
The president made the remarks as deputy-level meetings, led on the US side by Deputy United States Trade Representative Jeffrey Gerrish, got underway in the US capital on Tuesday.
They will be followed by principal-level meetings, headed by Chinese Vice-Premier Liu He and US Trade Representative Robert Lighthizer, which are scheduled to start on Thursday.
In addition to Lighthizer, the US delegation also includes Treasury Secretary Steven Mnuchin, Commerce Secretary Wilbur Ross, Assistant to the President for Economic Policy Larry Kudlow and Assistant to the President for Trade and Manufacturing Policy Peter Navarro, the White House said.
J. Stapleton Roy, former US ambassador to China, said in an earlier interview that whatever agreement is reached between China and the US, it certainly should not result in any increase in tariffs and hopefully will result in substantial reduction or removal of tariffs.