Bookstores bouncing back amid online onslaught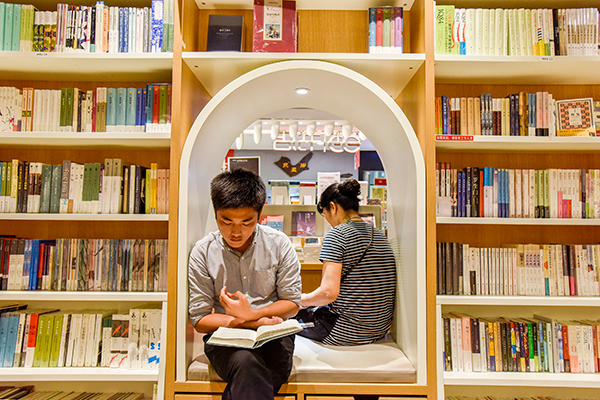 Ji added that as consumers now have more diverse and personalized demands, bookstores no longer solely sell books. Many have developed other businesses, including creative cultural products, coffee and fast food, along with hosting various cultural events.
He said the bookstores that are attracting readers again are not the traditional brick-and-mortar-style outlets, but are more like cultural complexes.
The Bookdao report said that of the 62 Chinese chains, only one focuses solely on selling books, and all but three do not sell food or beverages. All the stores surveyed sell creative cultural products and stationery as well as books.
For Sisyphe Bookstore, standardization is important for fast expansion and profits. Sisyphe opened 83 branches last year, and its revenue reached 900 million yuan, up by 73 percent year-on-year. It plans to open 100 branches this year and is targeting revenue of more than 1.5 billion yuan.
Hu Lei, general manager of the cultural development center at Sisyphe, said the company defines itself as a boutique bookstore chain for the masses and is dedicated to seeking a balance between its cultural attributes and commercial operations.
"Standardization means that whenever consumers enter our bookstores, they will feel familiar (with the products)," he said. "It also means we can quickly replicate our business model."
At all its stores, 80 percent of the space is used for books, 15 percent for coffee areas and 5 percent for creative cultural products and stationery. All Sisyphe stores cover 500 to 800 sq m, are located in big shopping malls and have compact layouts. They are all designed in the same European style that is conducive to creating the right atmosphere for reading.
"Our target customers are the mass public, and we want to help them cultivate better reading habits and introduce them to quality books," Hu said.
Sisyphe has used big data technology to ensure the books in every store match the tastes of consumers in a specific business district. Each year, it selects for sale less than 10 percent of the large number of high-quality publications in China to cater to a mass readership. Books covering specialized professions are not sold in its stores, Hu said.