Bookstores bouncing back amid online onslaught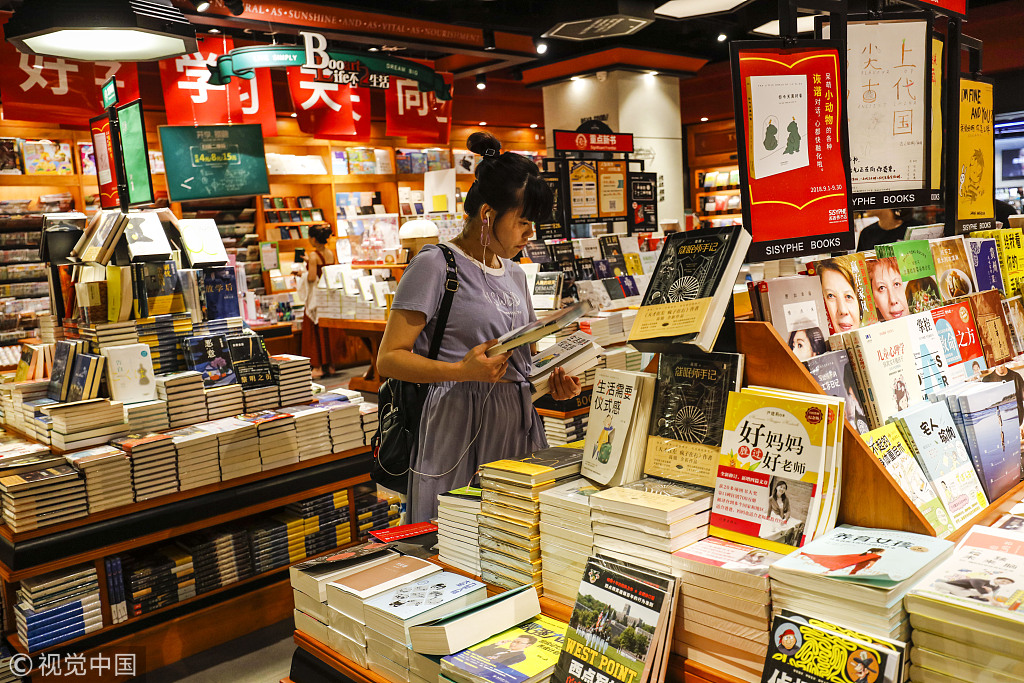 Dan Jie, founder of the Yanjiyou chain, has experienced these fluctuating fortunes. When his traditional book selling business stagnated, he founded Yanjiyou in 2013. It has opened large bookstores in shopping malls located in central business districts, with the aim of not only showcasing books, but also cultural lifestyles.
Dan said all Yanjiyou stores attach great importance to an elegant atmosphere and unique outlook, and many of them were planned by well-known designers.
"Every Yanjiyou store has unique designs, which usually absorb both local cultural features and exotic elements, as do the books and products that are on display," he said.
In Xi'an, capital of Shaanxi province, a Yanjiyou store that opened in late October attracts about 10,000 visitors a day. On weekends, it has to limit the number.
The store was planned by Japanese designer Tomoko Ikegai, who drew inspiration from palace buildings in the Tang Dynasty (618-907). Images of bronze chariots, horses and the Terracotta Warriors were also used for decoration, and the ceiling lights look like book pages swaying in the wind.
The 4,500-square-meter store stocks 130,000 books and also includes a coffee shop, an art gallery, a section selling innovative cultural products, and a creative industry incubator.
Yanjiyou now has 59 stores nationwide, and plans to open 30 to 40 new ones this year. Some of the newcomers are expected to occupy several floors, each with a total area of more than 10,000 sq m.
Cheng, the Bookdao director, said the revitalization of bookstores is largely due to favorable policies that have been unveiled in recent years. In 2016, a national guideline was issued on support for the bookstore industry. This led to 28 provinces, autonomous regions and municipalities issuing similar policies to boost the sector.
For example, since the release of local guidelines in July, 151 bookstores in Beijing have received a total of 50 million yuan ($7.4 million) in subsidies.
Cheng said the upgrading of cultural consumption has also helped the bookstore industry, as consumers are now demanding more quality content and lifestyles, along with creative cultural products and events.
Investors have also seen the potential of the industry. Of the 62 Chinese bookstore chains, about 20 percent have received financing, the Bookdao report said. For example, in December, Yanjiyou completed a second round of financing and has received a total of 240 million yuan from investors.
Ji, at Roland Berger, said shopping malls have witnessed the fastest expansion of bookstore chains and have also contributed to their growth, as malls offer low-cost retail space to them, and sometimes even help them to cover their renovation costs.
"Bookstores have become an essential part of shopping malls. Apart from bringing in massive human traffic... they also symbolize the elegant cultural taste to be found in malls," he said.