Ex-Missouri governor: American heartland seeks China relations
Share - WeChat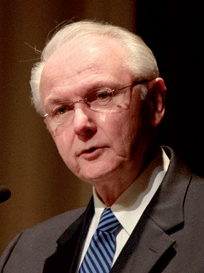 Bob Holden visited China for the first time in 2004 when he was governor of Missouri. That trip led him to realize that there is much in common between the people of China and the United States.
One episode during the trip left him deeply impressed.
Holden had taken his wife and sons with him to visit China, and his youngest son celebrated his 10th birthday while in Beijing. On that day, the family was visiting a school.
"I always try to visit a school when I travel overseas, and somehow a teacher found out about my son's birthday. When we got ready to depart, the teacher asked us to wait: 'We have a little present for him.'
"One by one, every one of the children in that room came up to present a small gift to him. I turned to my wife and said: 'I can work with those people,'" Holden recalled.
"I found that Chinese people have similar core values as people in the American heartland states, that is, they both value family, they both want their children to do better than them, and they value honesty dealing with others," he said.
"From those early meetings, I come to the conclusion that China could be a potential partner for Missouri and other states in the heartland," he said.
As a Democratic governor from 2001 to 2005, Holden opened Missouri's first China office, in Shanghai. After leaving the office, he went to teach at Webster University, a private college with an international student body from more than 140 countries. There, he helped to bring the first Confucius Institute (CI) to the state of Missouri in 2005, a process he initiated as governor.
Holden said that he found CI to be a helpful partner in expanding US students' knowledge of Chinese language and culture.
Speaking about the backlash that some CIs have experienced in the US, Holden said that "any time people don't like or feel threatened by another entity, they tend to try to build a wall around them".
"If there have been abuses, they need to be addressed and go forward, but we don't need to automatically make Confucius Institutes the boogeyman for anybody that feels threatened," Holden said.
While teaching, Holden later began to serve as chairman of the Midwest US-China Association, an organization dedicated to building cultural, educational and business relations with China.
A few months ago, the organization was renamed the United States Heartland US-China Association and expanded its member states from 13 to 20, ranging from the Great Lakes to the Gulf of Mexico.
Holden wants to make the heartland states more competitive in the global environment, and he sees such opportunities in building a strong relationship with China. The focus has been on building educational partnerships and cultural alliances.
"These are the two areas that give us opportunities to find common ground and give businesses the opportunities to be equal partners for all of our success," he said.
Holden said that his organization will make more efforts to open the door of opportunity for young people in the US and China.
"We will be involved in helping educational institutions to build long-term collaboration with institutions in China so young people will have greater understanding what those relationships are about and how they can be beneficial to both," he said.
About eight years ago, Holden helped the American Legion's Missouri chapter invite some Chinese students to participate in its program for the first time in the history of the organization. The American Legion started in the 1920s and educates high school students about government.
"The Chinese students participated in the same program as everybody else from Missouri. They played sports and learned about US government. Afterward, they went back to China; our young people went back to different parts of Missouri. That's how you build long-term opportunities," Holden said.
Holden also wants to send the students from heartland states to visit China. "I want them to get a sense what the culture of China is all about. I want them to know how the government in China operates. I believe that late teens and early 20s are the best age to build long-term relationships," he said.
Holden is currently working on putting together a delegation of some mayors in the heartland region to visit China in the next three or four months. He hopes that those mayors will sit down with their Chinese counterparts to set up the infrastructure needed to keep the relationship going and find mutually beneficial projects.
"We have about 60 cities in the region that have potential to build or expand the existing relationship with China. We want to keep the delegation small enough so that they can build a genuine relationship. There is a lot more value in having just five to 10 mayors from one country to another than having 20 or 30 of them," said Holden, adding that he has been to enough conferences to know that big is not necessarily better.
"With a large number of people, you often end up with trading business cards only. I want to see tangible results," he said, ensuring that the mayoral delegation will be an ongoing project by the association.
Much of the concerns, frustration, and anxiety are expressed in the heartland, which is also the region hit the hardest by the trade dispute between the US and China, Holden said.
"We are a nation of great power. China is a rising power. How do we bring both cultures together so we can both continue and both be successful?" Holden said. "We are working with cities and states to have them actively involved in this. I believe that the real changes come from the bottom up, not top down. After all, all politics are local."