Shale gas business firming up in China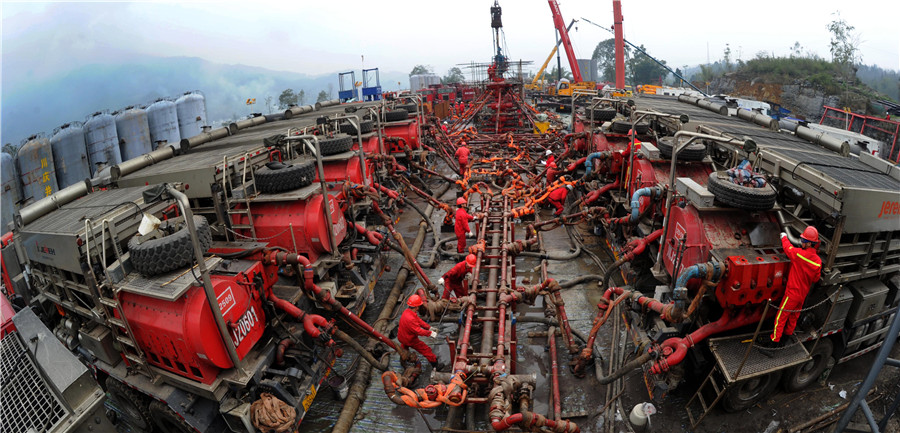 State energy giants playing a leading role in sector's development, but more private participation is called for
The domestic shale gas sector is driving full steam ahead, as local oil and gas companies in China have been making solid progress in drilling technologies and cost cutting to address the unique geographic challenges.
China is the third country to successfully commercialize shale gas production after Canada and the United States.
The country's major oil and gas behemoths have been speeding up drilling and exploration to boost domestic output. The major companies involved include China National Petroleum Corp, or CNPC, the nation's largest oil and gas producer by domestic annual output, and China Petroleum and Chemical Corp, or Sinopec, the world's largest refiner by volume.
This acceleration has resulted in breakthroughs in shale gas exploration both in drilling techniques and shale gas production over the last decade.
The country had nearly 600 wells last year, with around 700 new wells expected to come onstream by 2020 from CNPC and Sinopec projects. These wells have attracted a combined investment totaling $5.5 billion in the Sichuan basin, home to the country's major shale gas fields, according to energy research consultancy Wood Mackenzie.
Total proven shale gas reserves in China exceeded 1 trillion cubic meters at end-April 2018, figures from the China Mineral Resource Report 2018 showed.
It is estimated that the energy generated by 3 billion cu m of shale gas is equivalent to burning 6 million metric tons of coal, reducing carbon dioxide emissions by 4.2 million tons.
Sinopec is currently developing the country's largest shale gas field, the Fuling field in Chongqing in Southwest China. The company generated more than 6 billion cu m of shale gas and sold 5.78 billion cu m from the field last year.
It vows to lift domestic shale gas production by two-thirds by 2020, as the country needs more gas to move millions of households and factories from coal-fired to gas-fired power and heating.
CNPC has also been aggressively expanding its shale gas capacity, in line with the national policy of exploiting shale reserves as a cleaner energy source to replace coal.
It pumped 4.27 billion cu m of shale gas in the southwestern province of Sichuan in 2018, a year-on-year increase of 40 percent.
The company has ambitious plans in the shale gas sector for the upcoming two decades. CNPC vows to produce 12 billion cu m of shale gas annually by 2020.
Later, that target rose to an annual output of 22 billion cu m of shale gas by 2025, with 1,300 new drilling wells coming up between 2021 to 2025, and a targeted annual output of 42 billion cu m by 2030, with 2,300 new drilling wells established between 2026 to 2030.
To achieve this ambitious target, CNPC has opened its drilling operations to third parties. These include its competitor Sinopec, as well as private companies including Anton Oilfield Services Group, to jointly explore the resources in the Sichuan basin.
National target
China has set a target to produce 30 billion cu m of shale gas a year by 2020, according to a development plan issued by the National Energy Administration in 2016.
However, reaching that target will not be easy, as most of the country's shale gas reserves are located in remote, mountainous regions that lack a network of pipelines and other infrastructure. This leads to relatively high exploration costs due to the challenging geographical characteristics as compared to the US.
High population density, difficult land access and water scarcity also make drilling harder, according to energy research firm Wood Mackenzie.
Zhou Xiaolai, head of the ECF International Shale Gas Forum, said China needs more private participation in the exploration of shale gas to speed up the sector's development.
Private companies in China have been increasingly active in the shale gas sector in the past few years. Companies such as Jereh, Haimo Technologies Group Corp and Anton Oilfield Services are also active in markets including the US, Canada, Russia and some South American countries.
However, private companies still account for a small percentage of the market, as the sector has a relatively long investment period, higher risk and slow returns, Zhou said.
This comes as no wonder, as the shale gas sector remains a low-margin business in China. According to Wood Mackenzie, energy companies struggle to break even without government subsidies.
According to Li Li, research director at energy consulting company ICIS China, a shale gas boom in China like that seen in the US, which started to explore shale gas in the 1980s, is not possible in the short term. But, Chinese oil companies will continue to innovate, she added.
Although China remains behind the US in shale gas commercialization, mostly due to local technological challenges, the future for shale gas in the country is promising considering the continuously surging domestic demand for natural gas, Li said.
State-owned Chinese oil companies have developed their own understanding of the unique geology, gaining more experience and advancing their technologies.
Wang Lu, an Asia-Pacific oil and gas analyst at Bloomberg Intelligence, agreed that CNPC's and Sinopec's projects will play a leading role in achieving China's goal of producing 80 billion to 100 billion cu m of shale gas in 2030.
"China's aggressive shale gas development target, on the other hand, will also boost the share of gas in its energy mix," said Wang.
"CNPC may build a shale gas production capacity of 42 billion cu m by 2035, from resources 4,000 meters or less in depth. Its gas sales in profit should climb as operations improve and costs drop," she said.