Learning to make a business case
Share - WeChat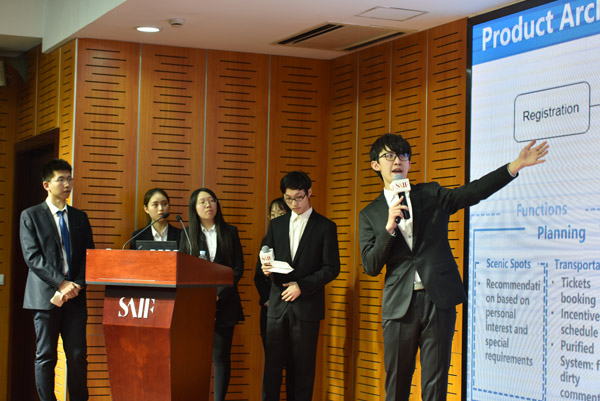 Contest lets participants from around the globe make a pitch to prospective investors, Zhou Wenting reports in Shanghai. Zhou Wenting
More than 120 students from 23 top universities around the world gathered at the Shanghai Advanced Institute of Finance for a simulated business competition themed "artificial intelligence plus capital markets" between Jan 20 and 22.
The competition, part of the 2019 International Youth Leadership Finance Summit, was to provide a platform for interaction and learning for undergraduate students, and enhance their understanding of financial academics and practice. This was achieved by presenting business cases and inviting leaders from the financial industry and academics to encourage dialogue and provide coaching, according to SAIF.
The finalists were required to select an enterprise from any industry, including e-commerce, education, big-data application, smart agriculture and medicine, devise a solution to empower the business with an AI application and present a business plan to win "finance" from the judges who are actual investors in industry.
Yang Lin, head of the Master of Finance program at SAIF, says that such competitions have been held at the school-which was set up at Shanghai Jiao Tong University in 2009-for the past six years, but earlier competition topics, such as monetary policy, used to be more macro and more focused on students' presentation and organizational skills.
Now things have changed, she says, adding: "Finance is increasingly penetrating every aspect of life, and therefore the topic must be linked to real business. Also, the judges are no longer only university professors."
Yang also says that one of Shanghai's major projects is to launch a science and technology innovation board on the Shanghai Stock Exchange and an experimental registration-based system for initial public offerings, and the theme of this year's competition echoed this.
"The main purpose of this board will be to attract technology enterprises, especially highly innovative ones, to Shanghai and provide them with a large amount of capital, foster cutting-edge technology, and then transfer this technology to other regions at home and abroad to consolidate Shanghai's status as a financial center," she says.
The theme also considered students' job preferences, according to SAIF, which took the 10th place in a global ranking of financial master's degree programs released in June by Financial Times. The program retained its No 1 ranking in Asia.
Most Popular