Flush with ideas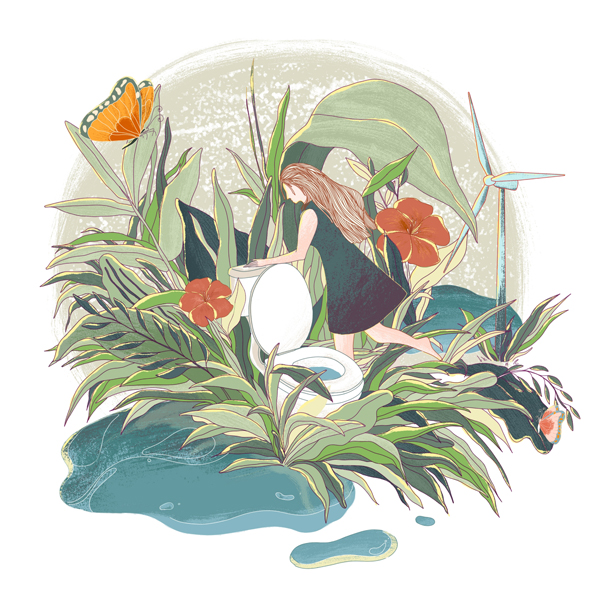 A competition is helping the government's bid to improve people's access to better toilet facilities, Yang Yang reports.
On a cold Saturday morning, 27-year-old Shi Yilei and 27-year-old Di Zhenhua are checking a 12-meter-long "container" in an empty plant of Beijing Dongfeng Electrical Co in Fengtai district, a one-hour ride from downtown Beijing.
The "container" has been newly coated in white, and later "some painting will be added", Shi says.
"I don't know what they will paint, except that they will make it a better-looking bathroom," he says.
It is a conceptual bathroom model that Shi, Di and 21-year-old Li Jichuan built. The design, called Mi Tian Gong, has won the first prize in the second Reinvent the Toilet Challenge-China, beating the other 55 teams from universities around the country.
The "container" is divided into two parts of equal size: bathrooms and a space to store the equipment that will turn human waste into clean water, fertilizer, and electricity.
In the men's room, there are two wall urinals and a vacuum urine diversion toilet that can separate urine from feces.
In the ladies' room, there are three vacuum urine diversion toilets.
Adjacent to the ladies' room is the 6-meter-long room for the equipment, which is currently empty.
The two graduate students from School of Environment, Tsinghua University entered another room of the plant, where the complicated machine for the osmosis of urine and the 0.5-cubic meter septic tank that processes the brown water (mixture of water and feces) is temporarily stored.
"The size of the bathrooms and the capacity of the processing equipment are designed for 500 uses a day," Shi says.
Getting close enough, one can smell odor from the stack.
"It's because we installed it in the greenhouse of Tsinghua University Primary School to test for 22 months," Shi says.
It may be the unpleasant smell, or the unsanitary conditions, but toilets used to be almost a taboo for Chinese to talk about in public.
However, since 2015, a toilet revolution has become one of the most frequently discussed campaigns in Chinese media.
The second Reinvent the Toilet Challenge-China is a contest, which not only encourages college students to create eco-sanitary toilets that can be used without connecting to the power grid or sewage system, but "more to draw people's attention to toilets in China", says Li Zifu, professor from School of Energy and Environmental Engineering, University of Science and Technology Beijing.
He is also one of the people who started and organizes the contest, part of Reinvent the Toilet Challenge, which was initially launched by the Bill & Melinda Gates Foundation that extended to China since 2013.
Li, who travels around the world creating toilet solutions for refugees that gather in large numbers in a short time due to natural disasters or wars, says, "Chinese people have the least will to talk about toilets, and often pay little attention to the sanitation of toilets and their maintenance.
"One possible explanation is that in the long history of an agricultural country, Chinese people regarded sludge as a kind of valuable fertilizer, so that the smell was often overlooked."
Farmers used to dig holes in the ground and surround the makeshift toilets with cornstalks. Another widespread style was to connect the pits with pigsties.
Compost of human waste, pigs' waste, stalks of rice, wheat, corn, and kitchen waste would be used to fertilize the land.
"But now we have to treat them in a modern way," Li says.
More awareness
Through such contests, we can draw more college students' attention to toilets and thus influence their families, Li says, adding that, it has been quite successful since the first contest was launched in December 2015.
Compared with the first contest, this second iteration saw the number of teams increase and the designs are, in general, better because "we offered more detailed requirements", Li says.
Additionally, there was no first-prize winner in the first contest, but in the second Shi's team emerged victorious.
"The judges decided that the design's feasibility is rather good, although they had disputes over its creativity," Li says.
Shi admits that, saying "our design is more feasible, compared with others, many of which employed technology borrowed from chemical engineering or biology that is still in the research and development phase and far from application".
The Reinvent the Toilet Challenge-China was launched at the end of 2015 while China was undergoing a three-year "toilet revolution" to improve the facilities to further boost China's tourism, since toilets have been a nightmarish experience for overseas tourists who visit the country.
In April 2015, President Xi Jinping called for the public's attention to a "toilet revolution" for China's tourism industry.
Between 2015 and 2017, 1.64 billion yuan ($238 million) had been invested to install or renovate more than 70,000 toilets at tourist sites, according to the Ministry of Culture and Tourism.