The Wandering Earth takes box office by storm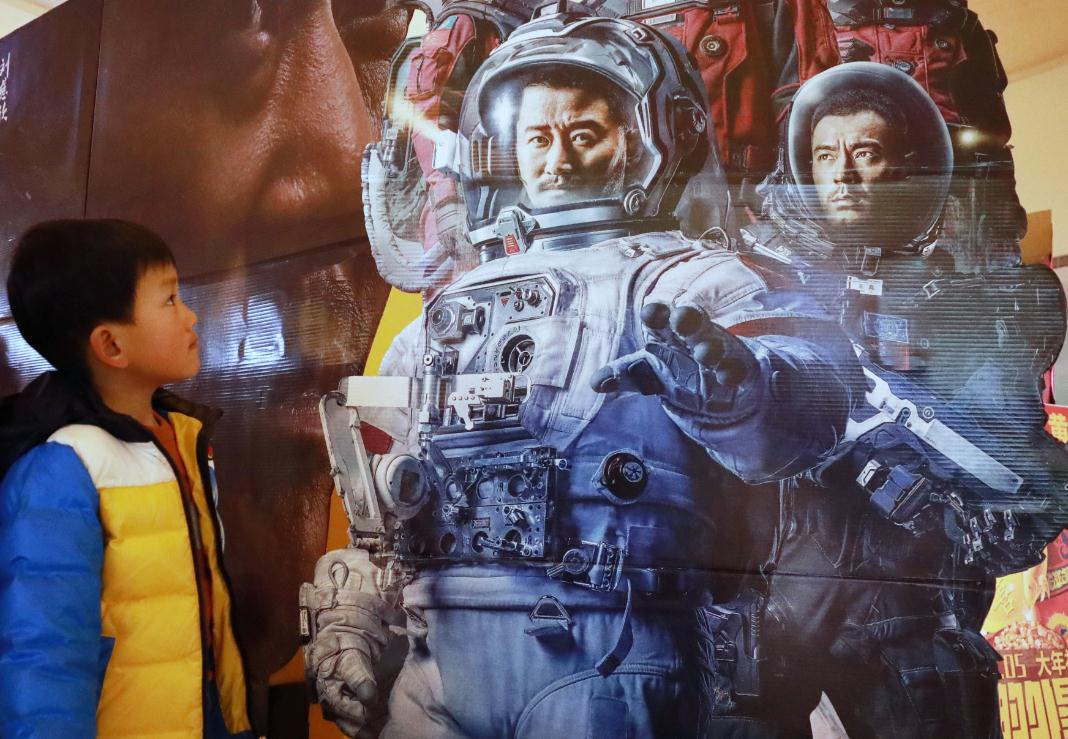 The unexpected box office success of science fiction blockbuster The Wandering Earth has proved to be a major revenue spinner for two of the movie's producers, amid a wider gloomy industry performance.
According to a statement from China Film Co Ltd, one of the film's two major producers, the company is set to make at least 95 million yuan ($14 million) from the film's 2 billion yuan box office revenue as of Sunday-just five days after its premiere.
Another major producer, Beijing Jingxi Culture and Tourism Co Ltd, also estimated it would gain 73 million to 83 million yuan in revenue from the film, another success following its previous hits-Wolf Warrior 2 and Dying to Survive.
The companies made their statements late on Monday-the first trading day after the Spring Festival holiday, following a surge in their share prices the same day. Beijing Jingxi's share price skyrocketed by the 10 percent daily limit to close at 14.51 yuan. China Film's share price increased by 2.74 percent to close at 16.15 yuan.
But Beijing Jingxi dropped by 1.79 percent to close at 14.25 yuan on Tuesday, while China Film dropped by 2.72 percent and closed at 15.71 yuan.
While the film is increasing its producers' revenue, not many people were betting big on the film prior to its release.
The Wandering Earth took 188 million yuan at the box office on its premiere, Feb 5.
Yet, that figure was not enough to push the film into the top 3 Spring Festival premieres, which were instead Ning Hao's sci fi flick Crazy Alien, Han Han's car-racing film Pegasus, and Stephen Chow's The New King of Comedy.
"The box office return on a film's premiere is a good reflection of the audience's expectations, as the result is largely influenced by presale film tickets," said Wang Yi, senior analyst at Maoyan Research Institute. Maoyan is a professional box office tracker headquartered in Beijing.
Although the three other films topped the box office on the Spring Festival premiere day, their overall box office performance failed to match market expectations.
The accumulated box office takings of Stephen Chow's The New King of Comedy only reached 553 million yuan by Tuesday, far below expectations, said Xiao Yanyan, senior manager for media at CITIC Securities.
"The film was expected to take at least 2 billion yuan at the box office. But it seems unlikely to meet that expectation, as the film took less than 600 million yuan during Spring Festival, the most lucrative box office season," Xiao said.
The situation has negatively affected its major producer Shanghai New Culture Media Group. The company dropped by the 10 percent daily limit as trading opened on Feb 11. Despite a slight increase in its share price later that day, the company still saw its share price dip 7.35 percent to close at 4.54 yuan.
Beijing Enlight Pictures Co Ltd fared slightly better. The studio was involved in the production and distribution of Crazy Alien and Pegasus, which had taken 1.6 billion yuan and 1.2 billion yuan respectively at the box office by Feb 12.
"Overall, studios in China have been experiencing a less satisfying holiday season compared with previous years as the box office remained flat this year, far below the expectation of a 20 percent increase," Xiao commented.
"Their share prices have also seen a decline at various levels, but there are still winners like Beijing Jingxi Culture," Xiao added.