Blooming spectacular
Share - WeChat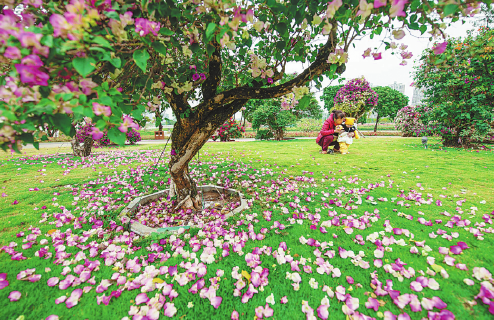 Heralding the Chinese Lunar New Year that begins on Feb 5, Fuzhou, capital of East China's Fujian province, has become a sea of flowers, attracting many local residents and tourists from around the country and the rest of the world.
Huahai Park was a once a wasteland, but now flowers are blooming everywhere, said a female park visitor, surnamed Chen.
"We organized a class reunion party in the park earlier this year and the photos that were taken are really beautiful due to the flowers in the background," said the 68-year-old.
"The smiles of the people in the photos were more brilliant than the flowers," Chen told China Daily.
Chen is a retired teacher from Fuzhou's Gulou No 2 Central Primary School.
Chen said she frequently visits the park together with her neighbors and friends to take a walk and enjoy the flowers.
"Every time, I can see many other park visitors having photos taken and doing exercise," she added.
Huahai Park, which integrates leisure, fitness, sightseeing and ecology, has become an ideal place for local residents and tourists to enjoy the flowers across all four seasons.