Sea of gold floods, 'town of a thousand islands'
Share - WeChat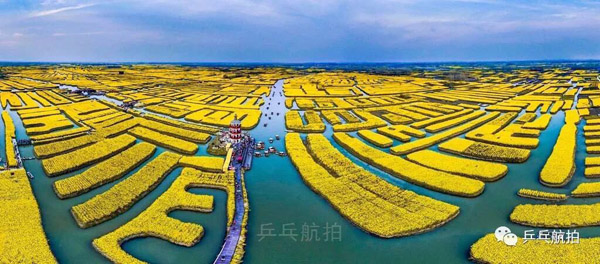 Flooded in a sea of golden rape flowers, the Qianduo scenic area in Xinghua, Jiangsu province, attracts millions of tourists from around the world every year.
The scenic area, also called the Qiandao Rape Flower Scenic Area, covers an area of 4.3 square kilometers. It is reputed to be one of the most beautiful spots to see rape flowers in the country.
Located in Dongwang village in Xinghua, the scenic area is holding its 10th Rape Flower Festival from late March to early May. With its unique scenery of a sea of golden rape flowers set amid a network of lush green rivers and lakes, it attracted more than 2 million tourists in 2017.
The panorama of the rivers and waterways winding through the fields of rape flower duotian are unique in China. Duotian, which is the local name for "raised field", are small patches of fertile soil created to have easy access to water for growing crops.
In ancient times, local farmers living near these rivers and lakes dug up the soil up from the riverbeds and piled the soil high to form farmland where they could grow crops. Each duotian is divided into sections by these waterways, and farmers need to commute by boats to tend to their crops, without the use of agricultural machinery.
A lack of modern machinery and the practice of growing rape crops turned out to be a distinctive ecological travel resource for the city. The thousands of fields at Qiandao differ in size and shape, with the largest ones extending to around 2,000 square meters, while the smallest ones cover just 2 square meters.
Almost every raised field is surrounded by water. The area is also called the "Town of a Thousand Islands", and poets have been writing about the area's outstanding beauty since ancient times.
These days in Xinghua, tourists can not only meander through the vivid seas of flowers by boat or go fishing, they can also catch a glimpse of the local lifestyle and village culture, and even get involved in harvesting farming products.
Thanks to its clean water and fertile environment, the region is also famous for its rice, crab and taro, which have become nationwide favorites since they were introduced in A Bite of China, a popular Chinese food documentary.
Xinghua's duotian agrosystem was selected as one of the "globally important agricultural heritage systems" by Food and Agriculture Organization of the United Nations in April 2004 for its splendid landscapes and agricultural sustainability.