Mobile pay encouraging tourists to spend more
Share - WeChat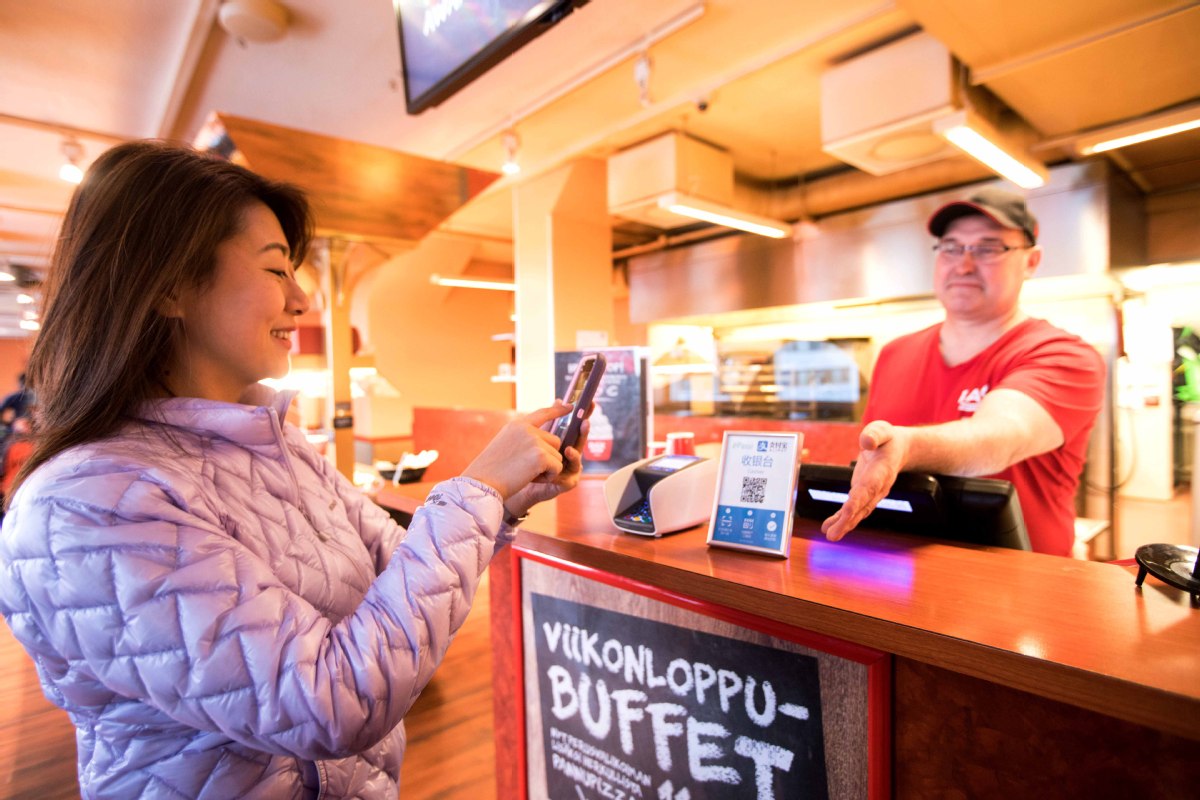 Chinese travelers are spending more money than ever on overseas trips, with 60 percent of visitors to Europe identifying mobile payment as their first choice, a new study says.
A Nielsen and Alipay report, titled 2018 Trends of Chinese Mobile Payment in Outbound Tourism, finds that the average budget for Chinese tourists traveling abroad increased to more than $6,026 per person in 2018.
Some 69 percent of tourists used mobile payment when spending overseas, up 4 percent from the previous year.
More than 147 million Chinese tourists traveled abroad in 2017 and spent a total of $220 billion, according to the Ministry of Culture and Tourism.
Such expenditures present merchants and tourist attractions with a huge opportunity to tap into growing spending. WeChat Pay, China's leading mobile payment supplier, developed by Tencent, has recently teamed up with Paris-based department store Le BHV Marais as part of its efforts to help European businesses connect with Chinese tourists.
WeChat Pay customers at Le BHV Marais have access to more diverse and personalized products and services, including a pop-up store celebrating Chinese New Year.
"Smart solutions with WeChat Pay at their core have been brought to millions of offline stores across over 30 industries in China and are common throughout users' daily lives," said Li Peiku, president of international business at WeChat Pay.
"Many Chinese people have now long been accustomed to going out without their wallet. Together with our global partners, we hope to extend the convenient experience of WeChat Pay overseas, so that global businesses can share the dividends of China's growing outbound travel market," Li said.
Aja Godais, director of customer service and international development at Le BHV Marais, called the partnership "a win-win situation, as the implementation of the recent initiative will surely enhance BHV's awareness among Chinese customers, but also it is interesting for WeChat Pay to be here because they gain visibility among French brands."
Of the 2,806 Chinese tourists that took part in the survey, 93 percent said they would be likely to increase their spending if mobile payment were more widely accepted.
Nearly 60 percent of overseas merchants surveyed who have adopted Alipay said they experienced growth in both foot traffic and revenue after their mobile payment systems were implemented; 58 percent said that their foot traffic increased; and 56 percent reported improved sales.
Yan Hong, a Beijing resident on a business trip in Paris, said she would prefer to use Alipay or WeChat Pay while shopping in Europe.
"I think I do that out of habit, because when I am in China, most of the time I use a mobile app to make my payment," she said. "I certainly believe mobile payment is likely to increase my spending as I usually have (only) a certain amount of local currency with me when I am overseas."
Industry experts say understanding the habits and preferences of Chinese tourists is crucial for European merchants if they want to tap into the opportunity they represent.