Beijing slams US request for Huawei CFO
Share - WeChat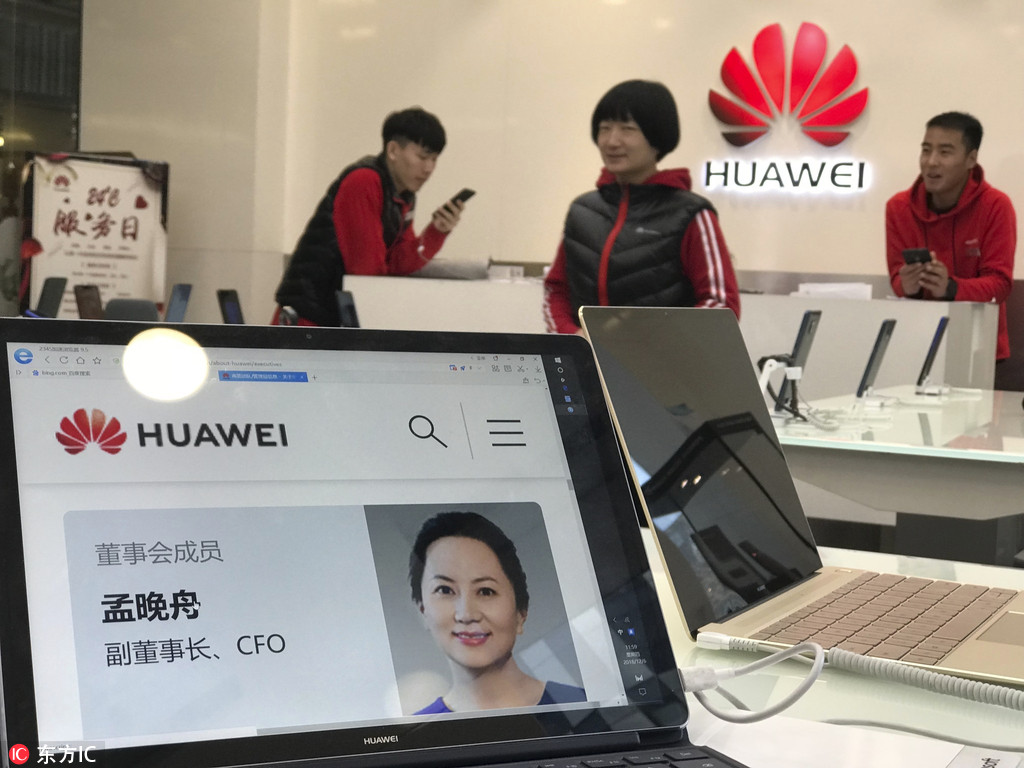 Ministry demands extradition order withdrawal, fair treatment for firms
Beijing strongly protested Washington's extradition request of Huawei Chief Financial Officer Meng Wanzhou and demanded "objective" treatment for Chinese enterprises.
Foreign Ministry spokesman Geng Shuang said on Tuesday that China is dissatisfied with and firmly opposed to the United States' extradition demand and its disregarding Beijing's stern representations.
"We call on the US side to immediately withdraw the arrest warrant for Meng Wanzhou as well as the official extradition request," Geng said at a daily news conference.
He also urged Canada to take China's position seriously, release Meng immediately and ensure that her lawful and legitimate rights and interests are protected. Ottawa should not risk endangering itself for other's gains, he added.
The US Justice Department unsealed criminal charges Monday against Huawei and its several subsidiaries, as well as Meng herself, alleging the company stole trade secrets, misled banks about its business and violated US sanctions. Canada's Justice Department confirmed later that officials had received a formal extradition request from the US, Canadian Broadcasting Corp reported.
Earlier on Tuesday, Geng warned Washington in a statement to stop its campaign against Chinese enterprises, including Huawei.
"China calls on the US to treat Chinese companies in an objective and fair manner," Geng said in the statement, adding that the country will firmly defend the legitimate interests of Chinese enterprises.
"For some time, the US has been using its power to tarnish and crack down on specific Chinese enterprises in an attempt to strangle their lawful and legitimate operations. Those acts were motivated by strong political intentions and manipulation," he said.
Huawei has denied committing any of the violations cited in the US charges. The Chinese telecommunications giant said in a statement on Tuesday that it tried to discuss the investigation with US prosecutors following the arrest of Meng in Vancouver, but that request was rejected.
The company noted the allegations in the trade secrets charges were already the subject of a US civil lawsuit that was settled.
Huawei added it is "not aware of any wrongdoing by Meng and believes the US courts will ultimately reach the same conclusion."
Meng was detained in Vancouver at the request of the US on Dec 1 in connection with alleged violations of US sanctions on Iran. She faces an extradition hearing on Wednesday.
On Friday, Canadian Ambassador to China John McCallum was asked to resign due to his comment on the extradition of Meng. He said it would be "great for Canada" if the US drops its extradition request against Meng.
Zhou Fangyin, a foreign policy researcher at the Guangdong Institute for International Strategies, said Meng's case is obviously not a legal case, but politically motivated.
Meng's case is neither related to the national security of Canada, nor is it related to its economic interests, Zhou said. The attitude of the Canadian government reveals how severely this matter is politicized, he added.
Ma Si contributed to this story.
Contact the writers at caodesheng@chinadaily.com.cn