Chery launches Exeed TX premium SUV model
Share - WeChat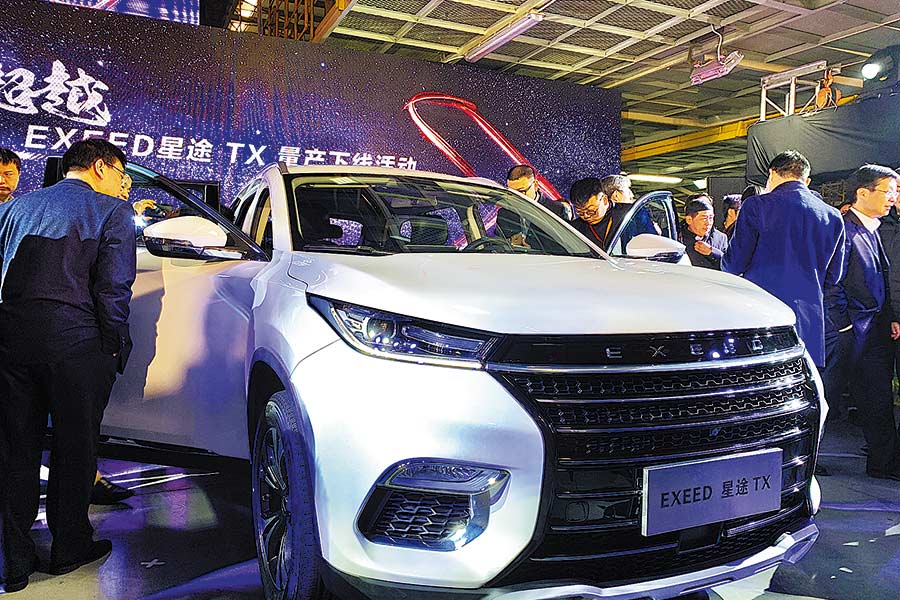 Exeed TX, the first model of Chery Automobile Co's new premium brand Exeed, rolled off the assembly line on Thursday in Wuhu, East China's Anhui province, as part of the independent Chinese carmaker's efforts to uplift its brand positioning and meet the younger generation's consumption demands.
"It took Chery 10 years to make the idea of manufacturing Exeed TX a reality, which has involved quite a few auto professionals from more than 10 countries," said Yin Tongyue, the board chairman of Chery Automobile Co at the unveiling event of Exeed TX.
As a mid-sized SUV, Exeed TX can rival the domestic and foreign premium autos in terms of power performance, intelligent technology and body design, Yin added.
Equipped with 1.6-liter turbocharged engine and 7-speed dual clutch transmission, the Exeed TX generates a maximum output of 145 kilowatts and a top torque of 290 Newton meters.
Coupled with a vehicle-mounted operating system developed by Baidu Apollo - an automatic driving initiative of the internet giant Baidu - the new model possesses a raft of intelligent connectivity functions, including artificial intelligent speech recognition, augmented reality navigation and face recognition online payment.
Sporting a 2,715-millimeter wheelbase, the model is 4,690 mm in length, 1,885 mm in width and 1,706 mm in height.
The Exeed TX is manufactured by Chery's new intelligent plant in Wuhu, which has an annual production capability of 100,000 units at the first phase and an automation rate of 92 percent, according to Chen Yong, senior general manager of manufacturing engineering at Chery Automobile Co.
Collaborating with Jaguar Land Rover - the British premium carmaker - has granted Chery valuable experience in designing the new plant, which is certain to produce high-class vehicles that meet market expectations, Chen noted.
The follow-up models of the Exeed brand include compact sports utility vehicle, middle-sized sedan and compact sedan with different versions of fuel vehicle, plug-in hybrid electric vehicle and all-electric vehicle, some of which will also be produced in the newly built plant, according to the carmaker.
The Exeed TX is expected to hit the market in late March, and Yin said he is confident in predicting that 100,000 units of the new model will be sold this year.
His words were echoed by He Xiaoqing, deputy general manager of Chery Automobile, who said the Exeed TX has gained favorable market response.
"Plenty of domestic dealers have expressed their confidence in the Exeed TX after getting familiar with this model. And to our surprise, some overseas dealers have also intended to import this new model," said He at the Thursday event.
"We have some foreign dealers here today, and some of them came here of their own accord, even without our invitation," He added.
The target market of the Exeed TX is the domestic middle and high-end market as well as the overseas market, according to He.
Chery has 7.2 million customers in more than 80 countries all over the world.
The carmaker hit a sales volume of 752,759 units last year, up 11 percent from the previous year.
Of the total, 126,993 units were exported to foreign countries, a growth of 18 percent year-on-year, making Chery the Chinese automaker that has exported the most passenger cars for 16 consecutive years. Export volume is expected to reach 200,000 units this year, He said, as Chery is scheduled to further expand its markets in Latin America, the Middle East and Europe.