Hyundai to cut jobs in China due to overcapacity
Share - WeChat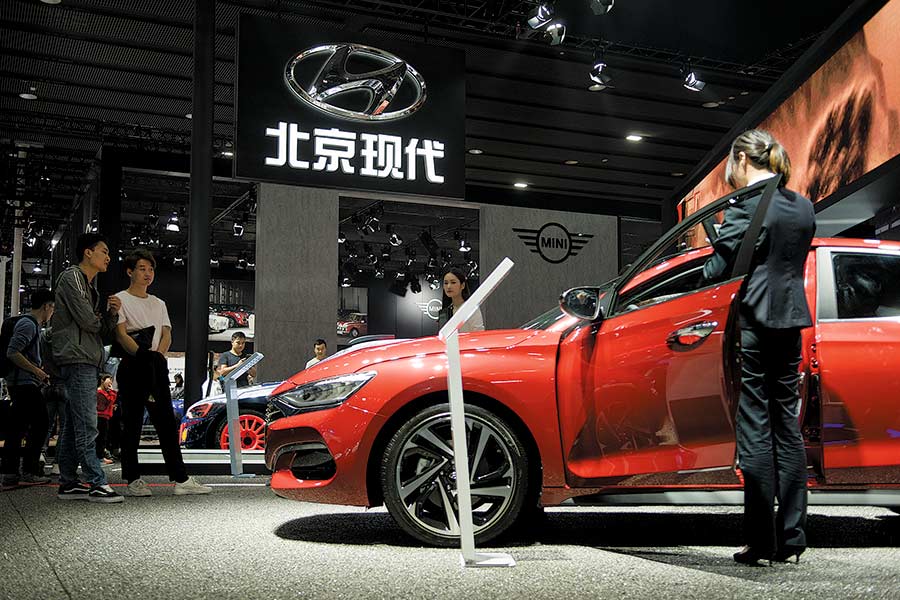 Korean carmaker losing ground in recent years to fast-growing Chinese rivals Geely, Great Wall
Hyundai Motor Co will cut around 1,500 jobs at its Chinese joint venture in Beijing, following the South Korean carmaker's sales slump in the world's largest vehicle market.
In the first quarter of this year, Beijing Hyundai expects to declare that 1,500 positions at its Beijing plants are redundant; those holding the positions will be laid off or moved to facilities elsewhere, according to Reuters.
The joint venture was not immediately available to comment.
Hyundai has five plants in the country - three in Beijing, one in Chongqing and the other in Cangzhou, Hebei province. Combined, they have an annual production capacity of 1.65 million vehicles.
That is more than double its sales of 790,000 vehicles last year, which was a bit higher than its annual sales of 785,000 in 2017 but lower than its target of 900,000, according to Reuters.
Industry analysts said Hyundai has a number of factors to blame for its poor performance in China, including the overall sluggish market and, more importantly, its less competitive lineup of models.
China's vehicle market fell 2.76 percent year-on-year to 28.1 million last year, its first fall since 1990.
But an even more important reason lies with Hyundai itself, according to analysts and industry insiders. In 2009, Hyundai and partner Kia's combined sales ranked third in China after General Motors and Volkswagen. But over the years, it has been losing ground to fast-growing Chinese rivals such as Geely and Great Wall Motor.
Both Chinese carmakers have launched upscale brands, designed to take on brands including Hyundai.
Geely's Lynk & Co sales exceeded 120,000 units in 2018, its first full year, accounting for 8 percent of Geely's total sales, which soared 20 percent to 1.5 million.
And foreign rivals ranging from Volkswagen to Toyota are offering more models to compete with Hyundai, squeezing its share as an affordable international brand.
To better utilize the production capacity at its joint venture, Hyundai plans to boost exports from its Chinese factories, Reuters quoted its vice-president Koo Za-yong as saying in a conference call.
Beijing Hyundai expects to boost its sales to 900,000 this year by launching up to eight models, and has set a goal to join those brands reporting annual sales of more than 1 million by 2020.
Analysts say the carmaker may have been overoptimistic, as the demand is likely to remain weak and most carmakers expect a flat year in 2019.
Beijing Hyundai is planning to enrich its lineup with new energy vehicles as well, with another nine models to hit the market by 2020.
New energy vehicles were the only growing segment last year in China, rising 61.7 percent to 1.25 million, and they are expected to soar to 1.6 million this year, according to the China Association of Automobile Manufacturers.
The joint venture expects sales of new energy vehicles to account for 10 percent of its total vehicle sales in the country by 2020, the joint venture announced at the same time as it noted that its accumulative sales had reached 10 million in China in late December.
In a statement in late January, Hyundai said it plans to complete its overseas business reorganization to grant greater autonomy to each region in an effort to spur sustainable growth and enhance innovation.
"The regional headquarters, in close collaboration with corporate headquarters, will play a hub role to lead continuous innovation within each market and advance Hyundai's global business operations to the next level," the carmaker said.