Evergrande expands NEV sector share with purchase of battery maker
Share - WeChat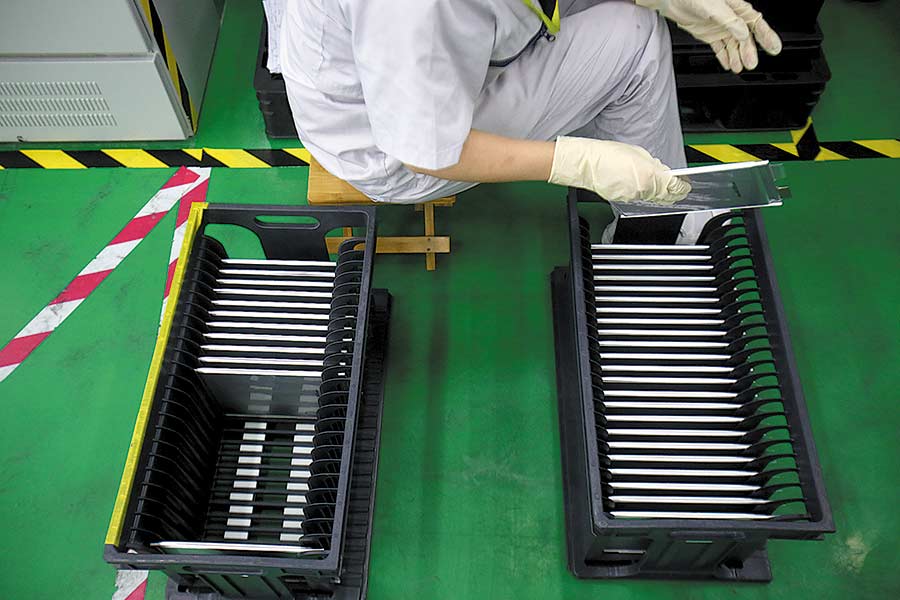 Chinese property giant Evergrande Group acquired an electric-car battery company on Thursday, the latest example of companies moving decisively into the rapidly growing new energy vehicle industry, even though analysts say the sector faces bumpy roads ahead.
The property developer's subsidiary Evergrande Health Industry Group paid 1.06 billion yuan ($157.12 million) for a 58.07 percent stake in Shanghai Cenat New Energy Co, a Sino-Japanese joint venture to produce lithium-ion rechargeable batteries and a supplier for SAIC Motor Corp, Dongfeng Motor and Changan Automobile.
The company plans to establish more factories with annual production capacity of 60 gigawatt hours in the next 10 years with the financial support of Evergrande, which already owns production plants in Shanghai, Jiangxi and Jiangsu provinces and the Guangxi Zhuang autonomous region.
Power batteries are the core component of NEVs and the key to boosting the industry. Evergrande said its acquisition of Cenat is to complete the layout of an automobile ecological chain with manufacturing, research and development, sales and customer sales.
The deal came nine days after Evergrande Health acquired 51 percent of National Electric Vehicle Sweden AB shares for a price of $930 million, as it diversifies into the NEV industry.
Kai Johan Jiang, founder of NEVS, said that Evergrande found him after the group finished a prolonged dispute with United States-based EV startup Faraday Future, founded by Chinese entrepreneur Jia Yueting at the beginning of this month, according to TMT Post.
"The two sides have similar ideas on making NEVs and our valuation is far less than other startups," Jiang was quoted by TMT Post as saying. "Who controls the company is not the most important part to me and what I care about is how many resources whoever can provide."
NEVS has two factories in Trollhattan, Sweden and Tianjin and is building a third in Shanghai. Two of NEVS' models, the 9-3 sedan and 9-3X SUV, have met the standards of mass production in China.
Yale Zhang, managing director of consultancy firm Automotive Foresight, said together with Guanghui Energy, which Evergrande purchased last year, the group appears to be a complete industry chain, but its product is still weak and its production scale is small.
The company still should pay more attention and spend more money on R&D of products, Zhang added. "Other NEV startups are unveiling models featuring fabulous appearance and internal structure to allure customers. The two models of NEVS are too old to meet the requirements of current customers," Zhang said.
John Zeng, managing director of forecasting and marketing consultancy LMC Automotive Shanghai, also thought that NEVS and Cenat are not the best choices for Evergrande, because they don't stand out in the industry.
The rivalry among Chinese EV startups is very fierce now and few of them will be successful. Partnerships with such companies will not increase the likelihood of success, Zeng said.
Another industry analyst also suggested that, Evergrande needs connoisseurs of the entire auto industry to promote the whole process of vehicle manufacturing, in addition to investment.