Belt & Road Initiative expands China-Iran cooperation
Share - WeChat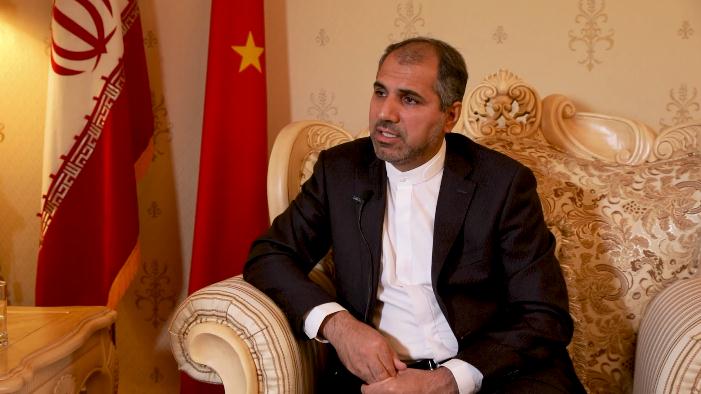 "The economies of the two countries are complementary to each other. We are one of the biggest energy producers in the world and China is one of the biggest energy consumers in the world," said Hassan Shahbeig, chargé d'affaires at the Iranian embassy in China, during a recent interview with China Daily.
The investment reached a frenzy in September 2017. In just one week, a series of deals were reached between China's top financial institutions and a business delegation led by Iran's central banker Valiollah Seif, in which China promised $35 billion in financing and loans to support Iran's economy.
The Iran Daily first reported a credit line of $10 billion from Beijing-based CITIC Group, a State-owned investment firm, to finance water, energy and transport projects.
Scarcely a day passed before the newspaper reported that the China Development Bank had signed preliminary deals with Iran worth $15 billion for its infrastructure and production projects, adding that officials from Export-Import Bank of China would travel to Iran to finalize another $10-billion letter of credit.
Iranian officials told the newspaper that all these deals were part of China's Belt and Road Initiative (BRI), which aims to build infrastructure, from highways and railways to ports and power plants, between China and other Asian countries, Europe and Africa to promote trade.
Iran's strategic location renders it a vital component in the BRI's global framework. As Shahbeig put it, "Iran is located in the central part of the Middle East, as a bridge between China and Europe. It is located in a place which can connect the north and south corridor, and also the west and east corridor."
"The Iranian government has supported the Initiative of Belt and Road, and we have been following up this idea and have been in discussion with the Chinese government," he added.
There is already a direct freight train between China and Iran. The rail route, also known as the New Silk Road, stretches 2,300 kilometers from Urumqi in western China's Xinjiang Uygur autonomous region to Tehran, connecting Kazakhstan, Kyrgyzstan, Uzbekistan and Turkmenistan along the way, cutting transportation to 14 to 15 days, compared with 45 to 50 days by sea. According to Iranian business daily Financial Tribune, five cargo trains have traveled the route to the Iranian capital since January 2016, loaded with myriad Chinese goods, from automobile accessories and spare parts to household appliances and ceramic tableware.
As a strand of the global New Silk Road, China is also building a 926-km railroad from Tehran to the eastern city of Mashhad, Iran's primary pilgrimage site which attracts tens of millions of visitors each year. Construction of the electrified railway by China National Machinery Import and Export Corporation, also a State-owned enterprise (SOE) , is expected to take up to four years. Once completed, it will reduce the journey from 12 hours to 6 hours and increase transportation capacity to 25 million passengers and 10 million tons of cargo per year.
For Iran, the Tehran-Mashhad electrification project is part of its wider rail development plan to electrify all railroads by 2025. The government has placed expansion of the country's rail network on top of its agenda. In its sixth five-year development plan (2017-22), Iran vowed to increase the share of rail in cargo and passenger transportation to at least 30 percent and 20 percent respectively by the end of the period.
Iran's ambitious program of rail construction and upgrading has attracted a lot of Chinese companies to participate, especially those big SOEs. The State-owned China Railway Engineering Corp is building a 415-km high-speed rail line between Tehran and Isfahan via Qom. In January 2018, a subsidiary of China Railway Construction Corp won a 3.53 billion yuan ($513 million) contract to build a 263-km railway in western Iran between Kermanshah and Khosravi. In March 2018, China National Machinery Industry Corp signed a contract to build an $845 million railway connecting the Iranian cities of Tehran, Hamedan and Sanandaj.
As China's BRI enters its sixth year, with more Chinese SOEs venturing into not just Iran but also other international markets, Shahbeig had a grand vision for its future.
"We are thinking that if this idea could be expanded and at the same time others be involved in this initiative, it will make a safer and more prosperous and more secured globe for all human beings," he said.