Advanced materials improve lives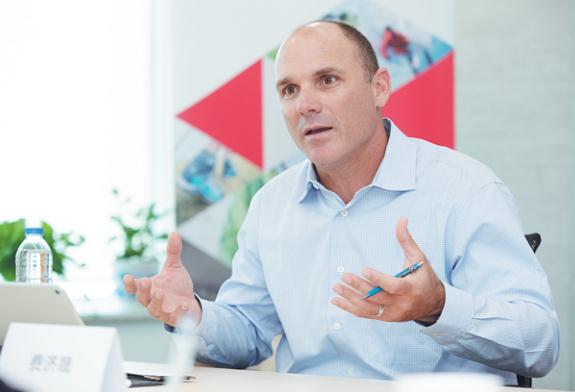 Jason Field leads Gore's big efforts to enrich multiple industries across China's economy
Every time he visits China, Jason Field, president and CEO of W. L. Gore & Associates Inc, wonders about the umpteen lower-tier Chinese cities that the United States-based advanced materials manufacturer is yet to serve.
Since becoming the company's global head in early 2018, Field has been seeing growing opportunities in sectors related to China's consumption and industrial upgrades-new energy vehicles, new materials, medical and consumer products.
In addition to expanding the manufacturing capacity of its two plants in Shenzhen, Guangdong province, the company has been looking for new opportunities in western China, especially in the region's booming medical industry. It has gained more knowledge about the western part of the country and its diversity.
The group has three main business divisions in China: a fabrics business division, which covers the two varieties used in fire-fighting uniforms; a consumer-oriented fabrics, including protective garments for outdoor enthusiasts; and a medical business division specializing in therapeutic devices that offer new solutions to medical challenges.
In addition, Gore has a performance solutions division to supply products that can solve complex mechanical challenges for its customers across a range of industries, including automotive, aerospace, pharmaceutical and electronics.
Mobile electronics and automotive are currently two key sectors that are bringing in a lot of positive growth to this division in China.
Field, who joined the six-decadeold company in 2005 as a product specialist, said with a focus on the industrial upgrade and technology, the company is excited about many disruptive innovations in China as well as markets related to the Belt and Road Initiative.
Gore expects to continue to develop products for China, which he said is one of its top three markets. The firm would like to help China's advanced materials industry to innovate for the rest of the world.
"The development of BRI is all about transportation and data, which presents opportunities in some of our focus markets. It could present new growth opportunities for some of our products in many developing countries," he said.
Without disclosing specific financials, Field said Gore has had "consistent double-digit growth" in revenues in China over the past several years.
By being close to the original equipment manufacturers or OEMs in the Pearl River Delta region, the company could better understand what their needs are, and use its scientific capabilities in materials to help solve these challenges, Field said.
Compared to the markets in Europe and the US, the Chinese market is very fast-paced. Boosted by advanced telecommunication, big data, internet of things and 5G technologies, as well as well-developed logistics network, it has pushed foreign companies to become more responsive and move more quickly, he said.
"I think the other piece that has been really good for Gore is how digitally advanced China is, both in terms of how we engage in business, and (how we engage) socially. It influences our operations in many positive ways."
Field reiterated that Gore will continue to focus heavily on the new energy vehicles sector, and certainly the mobile electronics will be a very exciting sector for its business in the long run.
He also noted that Gore is thrilled about the fact that sport is gradually becoming a new culture in China with the 2022 Winter Olympics fast approaching and with people's interest in outdoor sports growing. This trend has expanded market demand for outdoor garments, which require new materials for their manufacture.
"In some other parts of the world, more than 50 percent of people are doing outdoor sports, while in China, the proportion is only about 10 percent, which shows the market will further expand," he said.
His idea is shared by Li Guanghui, vice-president of the Chinese Academy of International Trade and Economic Cooperation. Li said China has been encouraging domestic companies to create more high added-value in their product lines. It has also been promoting sustainable development. So, the country's demand for high-end materials will remain attractive for global players, especially in areas like outdoor sports, healthcare, chemical and electronics products.
Established in the state of Delaware in 1958, Gore entered the Chinese mainland in the 1990s and runs two plants in Shenzhen. It also has offices in Beijing and Shanghai.
It is one of the 200 largest privately held US companies. Gore has an associate stock ownership plan. Its financials are evaluated to set a share price or value for the company. And, annually, each associate receives a percentage of his/her annual wage in stock. In this way, it has built true ownership among all the associates over time, he said.
Supported by more than 9,500 employees across the world, the company earned more than $3.5 billion in revenue in 2018. To date, more than 40 million medical devices made by Gore have been implanted in people who needed them, saving and improving the quality of lives worldwide.
Field, his wife and son live in both Flagstaff, Arizona, and Newark, Delaware-Gore's headquarters. He enjoys outdoor recreational activities, and supporting education, advancing medical technology through engagement with the Advanced Medical Technology Association during his spare time.