France to remain militarily engaged in Syria in 2019 despite US withdrawal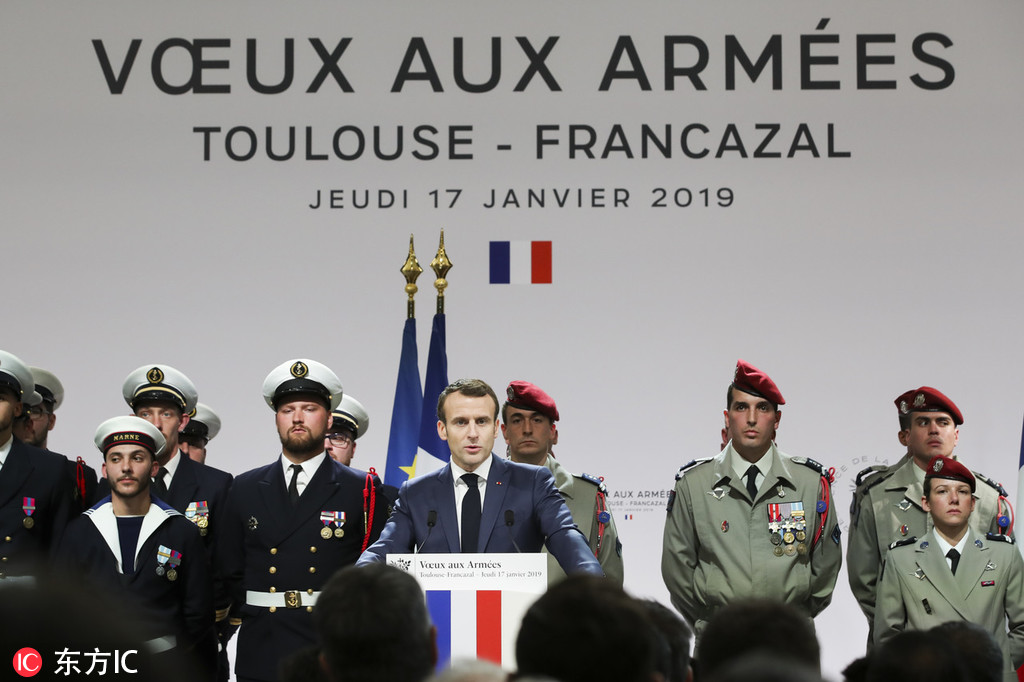 PARIS -- France would carry out its military offensive against the Islamic State (IS) fighters in Syria this year, French President Emmanuel Macron said on Thursday, warning that "any rush to withdraw (troops) would be a mistake."
"France will remain militarily committed in the Levant within the international coalition in the coming year," Macron told army chiefs and soldiers gathered at an army base near the southwestern city of Toulouse.
"The retreat from Syria announced by our American friends cannot make us deviate from our strategic objective - eradicating Daesh (the Arabic acronym for IS) by depriving this terrorist organization of any territorial footprint and preventing its resurgence," he said.
Expressing condolences for U.S. soldiers who were killed in a bomb assault in Syria's Manbij, Macron said the "fight is not over because Islamist terrorists are still there and targeted them (American servicemen)."
On Wednesday, a suicide bombing targeted a US patrol force in Syria's Kurdish-controlled city of Manbij in the northeastern countryside of Aleppo Province, killing 20 people, including four Americans.
The attack, claimed by the IS militant group, came as Washington is preparing to pull out about 2,000 troops from Syria, saying that the cell's insurgents have been defeated.
"We will have to conduct other operations. Next weeks, months will be decisive," Macron said.
France, a leading member of the U.S.-led coalition fighting militants, would adapt its military presence to the operations on the ground and political situation in the zone, Macron told the gathering.
"We are staying invested to participate in the stabilization of the region," he pledged in his New Year speech to the army.
France was one of the first European countries to join the international coalition against the IS. Its fighter jets bombed the group in Iraq in 2014 and then IS targets in Syria a year later.
Around 1,000 French troops including special forces have been based in the north of the country, deployed alongside local Kurdish and Arab forces.