Digital-savvy silver-haired economy maturing in China
Share - WeChat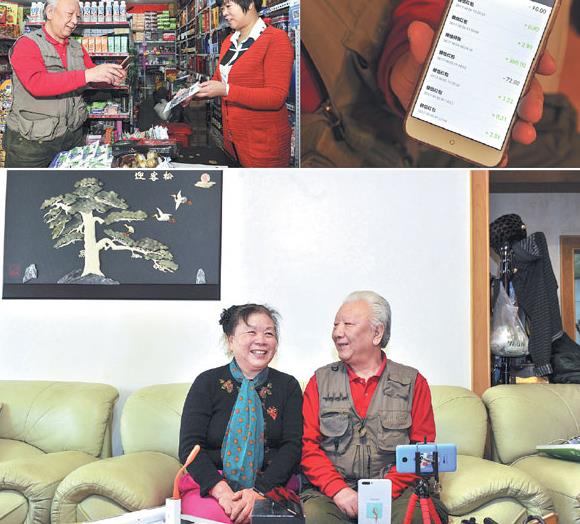 Internet tech changing senior people's social lives, shopping and interests
Jiang Qiyuan's smartphone often beeps several times in a row. There is nothing she can do but turn off the notifications from short video app Douyin.
The constant beeping happens every time a viewer "likes" or comments on her short videos posted on the app. During this particular 15-second video, Jiang's grandparents, who are both just over 70 years of age, perform fashionable finger dances to the beat of a popular song for the camera.
In less than a month, the video gained more than 3 million likes and over 60,000 comments on the platform.
"Previously, I had to persuade my grandparents to join in. After I told them they've gained a huge following online, they now always ask to be filmed," Jiang said.
After retiring, Jiang's grandmother has become an active member of her community. Whether playing waist drums or practicing fan dances, Jiang's grandfather is always there with her.
"Wearing dark colors on camera will give us a more tired look. We make sure we look and feel great on camera so that the audience will focus on our main message," Jiang's grandmother said.
Growing numbers of elderly people are actively embracing the digital world as the digital-savvy silver-haired economy is booming.
Among Chinese mobile internet users, more than 50 million are seniors aged 50 and above, according to a recent report released by internet services provider QuestMobile.
"New content, connections and lifestyles have popped up, buoyed by rapidly changing technologies," said Cheng Wu, vice-president of Chinese internet giant Tencent Holdings Ltd, at a news conference in Beijing.
"In modern society, the internet and digital technologies are tools that can convey and carry emotion. After retirement, seniors lack a proper social space. The internet can open a new world for them."
According to the Office of the National Working Commission on Aging, there were 241 million people aged 60 and above in China at the end of 2017, accounting for 17.3 percent of the total population.
That number is expected to hit 487 million by 2050, or 34.9 percent of the total population.
QuestMobile noted in its report that as a large group of people born in the 1960s and 1970s, who received better education than previous generations, are turning 50, we will see a higher literacy rate among retirees.
Statistics from QuestMobile showed seniors tend to spend their time on Tencent's WeChat instant messaging app, watching short videos and reading news apps.
In China, elderly people are increasingly making WeChat a part of their life. As of September 2018, WeChat had 61 million users aged between 55 to 70, the company claimed.
Among senior WeChat users, 85 percent use WeChat for social interaction, including sending voice messages, video chatting and seeing their WeChat friends' posts. Sixty-five percent read articles posted by companies and organizations' official accounts. Half of them use the payment functions on WeChat, according to Tencent.
More elderly people are also using WeChat's mini programs for entertainment and lifestyle services. Embedded in the WeChat app, mini programs allow users to better access services in a wide range of fields, including transportation, retail and dining.
Mini programs database platform Aldwx.com said the video, content, information and photography categories are the most visited mini programs among senior WeChat users.
"The booming internet technologies will help to create a new digital lifestyle for middle-aged and elderly people," said Chen Guangjin, director of the Institute of Sociology at the Chinese Academy of Social Sciences, at a news conference in Beijing.
"The blossoming mobile internet is changing the way they interact with others, acquire information and spend their leisure time," Chen said.
As an increasing number of middle-aged people and seniors are taking their familiarity with technology from the workplace with them into retirement, many have started shopping online, including on Taobao and JD, two leading Chinese e-commerce sites.
As of October 2018, Alibaba's Taobao and Tmall platforms had nearly 30 million middle-aged and elderly online shoppers, the company claimed.
Alibaba's statistics said the average spend among online shoppers aged over 50 hit nearly 5,000 yuan ($730) in the first nine months of 2018. The average number of purchased goods in the group was 44 items, highlighting their high purchasing power.
"The vast elderly group is gradually becoming a new market force in the age of the internet. So now we need to have a better understanding of individual differences among seniors to better serve their specific needs," said Si Xiao, head of the Tencent Research Institute.