China Reform and Friendship Medal winner from UK honored for his contributions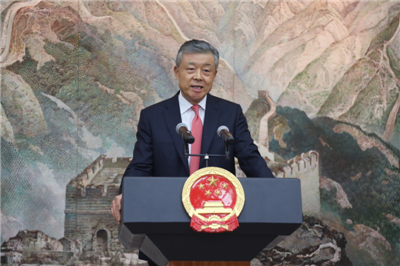 "They have witnessed, supported and contributed to China's reform," Liu said, "The award on Mr. Perry has profound significance."
Liu said that Chinese and British people have made relentless efforts, overcome many difficulties, and come a long way to build the golden era. "This has not been easy. It deserves our greatest attention," he added.
Perry sees the Belt and Road Initiative proposed by China as a great opportunity for the UK. He said that UK should work closely with China as well as the United States and European Union, especially at the time of Brexit.
"China accounts for 30 percent of world growth, and when we look ahead, China is still going to figure in that sort of proportion of world growth and we have the Belt and Road Initiative adding to that. So it is inconceivable that Britain and China won't have close relationship in order to work out how both countries can benefit from the opportunities in China, the opportunities in BRI, and the opportunities in the UK," Perry said.
Perry's father, Jack Perry, founder of London Export Corporation, led 48 British businessmen to embark on an ice-breaking trade mission to Beijing in early 1950s.
The team later formed the precursor of the 48 Group Club, a British business association that started UK's trade links to China and is committed to promoting China-UK trade.
Nowadays, there is still ice between China and the rest of the world to break, Perry said, adding that the main piece of ice is the misleading comments of "China threat" from the US and some other Western countries.
"China wants to work with the United States, but the United States may push very hard before it realizes that it can't succeed by trying to push China into a corner," he said, "I understand the fear. But there's not a threat from China, but change is coming from China."
The 48 Group Club led by Perry, now with more than 600 British and Chinese members, including senior executives from corporate organizations, high-level politicians, diplomats, academics and groups focusing on cultural exchanges, continues its efforts to promote positive China-UK relations.
The 10 medal winners include Lee Kuan Yew, former prime minister of Singapore, who promoted Singapore's participation in China's reform and opening-up, Klaus Schwab, executive chairman of the World Economic Forum, who promotes China's economic cooperation with other countries, and Juan Antonio Samaranch, former president of the International Olympic Committee, who contributed to China's global role in the Olympics.