Govt to ensure new energy car growth in post-subsidy era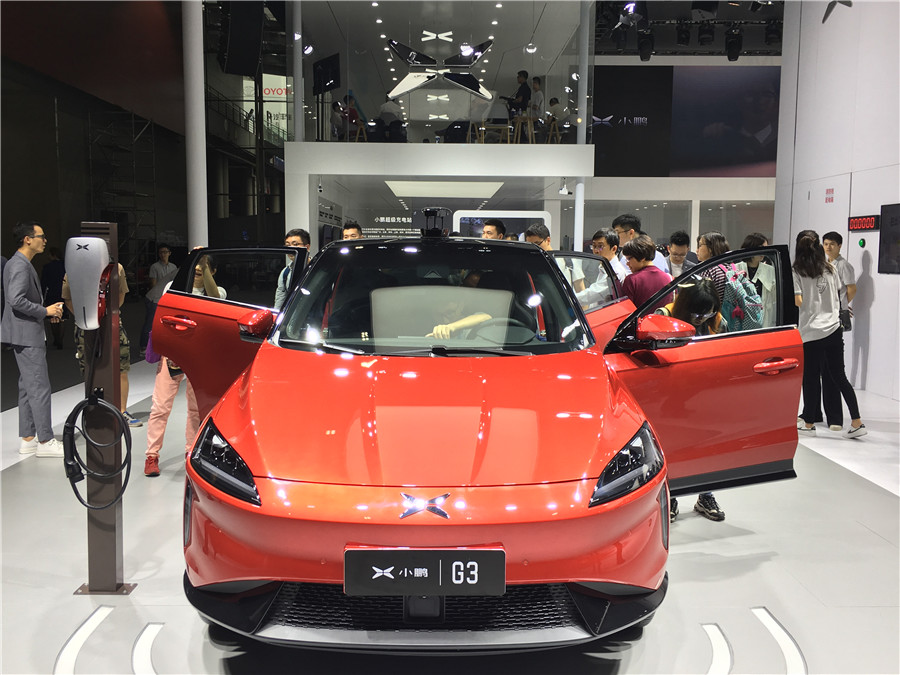 Experts: Electrified vehicles to outperform gasoline ones in price and range around 2025
China will prevent roller-coastering in its booming new energy vehicle market as the country is slated to cut its subsidies again in 2019 and stop them by the end of 2020, said Miao Wei, minister of industry and information technology on Saturday.
"Departments concerned are working on the subsidy scheme for 2019 and the overall guiding principle is to prevent the withdrawal of subsidies from causing turbulence in the sector," said Miao when addressing the annual China EV100 Forum held in Beijing.
China started to finance its new energy vehicle industry from 2009 and tens of billions yuan have been given to carmakers.
After 10 years of development, the industry has become less reliant on financial stimuli as new energy vehicles are starting to gain momentum in the private market.
Last year, 1.25 million new energy vehicles were sold in China, up 61.7 percent year-on-year, and the figure is expected to reach 1.6 million this year. This is despite the overall vehicle market remaining flat, according to the China Association of Automobile Manufacturers.
Miao said the prospects have attracted almost all carmakers to increase their electric plans in the country, with investment along the whole industry chain reaching 2 trillion yuan ($296 billion).
"As competition intensifies, it will be a challenge for some time to protect the hard-won results over the past years after the subsidies are phased out by the end of 2020," he said.
He added China will announce a number of measures to ensure the sector's future development, ranging from building charging infrastructure to encouraging outsourcing and international cooperation to build competitive products.
Wan Gang, vice-chairman of the National Committee of the Chinese People's Political Consultative Conference, said the authorities should summarize the experience of the past decade and work out a development plan for 2035 as soon as possible.
"The primary goal is to enable the industry and society to have clear, long-term expectations," he said at the China EV100 Forum.
"Our supportive policies should not be limited to financial stimuli; there should be other policies as well," said Wan, former minister of science and technology and a leading expert in the country's new energy vehicle program.
He said China's dual-credit policy, which consists of gasoline cars' fuel consumption and new energy vehicle production, will become a driving force in the industry.
The policy, which will be put in place this year, requires carmakers in China to produce a certain number of new energy vehicles to amass credits. If they don't meet the goal, they either have to buy credits from others or get fined.
In terms of stimulating sales, Wan said the country should offer new energy vehicle users more road rights and make license plates for such vehicles easier to obtain than gasoline ones.
He also suggested that some regions should ban non-electrified vehicles, especially those for public use, including buses, taxis and rental cars.
The authorities in Hainan province announced in April 2018 that it will forbid sales of non-electrified vehicles starting from 2030.
BYD Co, one of the largest new energy carmakers in the world, said all buses and taxis in Shenzhen, Guangdong province are now electric ones.
Wang Chuanfu, BYD chairman, called on other cities to follow suit, saying that it is possible to have a wholly electrified market in China by 2030.
He said new energy vehicles will beat gasoline cars in terms of prices and range by around 2025.
Ouyang Minggao, a member of the Chinese Academy of Sciences and a senior expert in new energy vehicles, agreed that the year 2025 will be a crucial point in the development of new energy vehicles.
"By then, technologies about lithium batteries and fuel cells will become mature and the prices of new energy resources and renewable resources will see their turning point, as will new energy vehicles," said Ouyang.
He expects China to have around 50-80 million new energy vehicles by 2025. "It is very likely and we should be well prepared."