Trade issue won't stop wave of China's tech innovation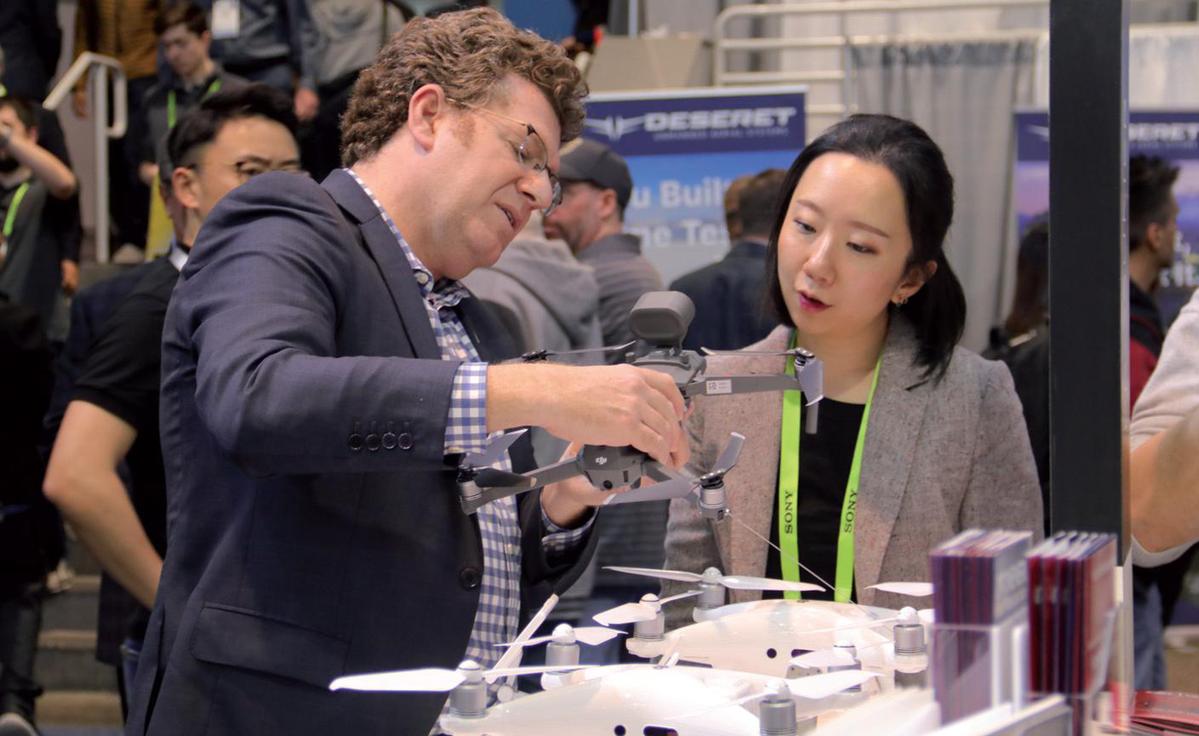 Before my third trip to Las Vegas to cover the annual Consumer Electronics Show (CES), I was upset by the smaller Chinese participation in the largest and most influential tech event on the planet.
According to the show's producer, the Consumer Technology Association, the number of Chinese exhibitors dropped about 20 percent at CES 2019, after a record high of more than 1,500 made the trip last year. Many industry giants like telecoms ZTE and smartphone maker Xiaomi were absent.
It's clear that the tension between the US and China these days has cast a shadow on the usual exchange between the two countries.
However, when I stepped onto the show floor, I still was amazed by the indelible presence of Chinese innovative technology.
China's second-largest online retailer JD made its CES debut, showcasing "boundaryless retail" with autonomous delivery bots and VR drones; a big crowd waited in a long queue at Royole's booth to handle the FlexPai, a foldable smartphone and tablet with an ultra-thin display; UBTech's humanoid robot Walker made media headlines with its capabilities of serving as a household butler; leading voice assistant and AI firm iFlytek unveiled its real-time voice translator, which supports 34 languages, and so much more.
"I was so impressed that it can carry out conversations speaking different languages," said Garth Mitton, a journalist with NBC News, who had just talked smoothly with a Mandarin-speaking exhibitor using iFlytek Translator 2.0, recipient of this year's CES Innovation Award.
"China is awesome," Mitton added. "I might be a little biased, but I am really impressed with Chinese innovation."
The dazzling tech wasn't only present in Chinese companies. In fact, many showstoppers had something to do with China.
London-based creative computing pioneer Kano spotlighted its Harry Potter Coding Kit, a do-it-yourself product that shows children how to build a Bluetooth-coding wand, how to code with step-by-step creative challenges, and to "make magic", with a wave, twist and a twirl. The kit also won this year's Innovation Award.
"This product is manufactured in China, and we have a wonderful team in Shenzhen," said Vidal Meric, head of revenue operations at Kano.
"Shenzhen is an incredible place. It's probably the hub of innovation in the world outside of Silicon Valley. Anything and everything made at CES, probably someone in Shenzhen had handed it in some way," Meric commented.
Some were saying that this year's CES should stand for "Consumer Electronics by Shenzhen", because more than 500 exhibitors were from Shenzhen in South China's Guangdong province, dozens more than last year, even though the total amount of Chinese exhibitors had decreased.
The annual China Information Technology Expo (CITE) will take place in April in Shenzhen.
"Innovation has become a keyword for Shenzhen, and Shenzhen represents China's innovation," said Chen Wenhai, CITE's top executive. "Compared to Silicon Valley, Shenzhen is more advanced in creating consumer goods and making ideas profitable. There are so many opportunities for US and China's further cooperation. I hope that the US can be open-minded, just like our market is always open for them."
Contact the writer at judyzhu@chinadailyusa.com