Semiconductor makers boosted by AI trend
Share - WeChat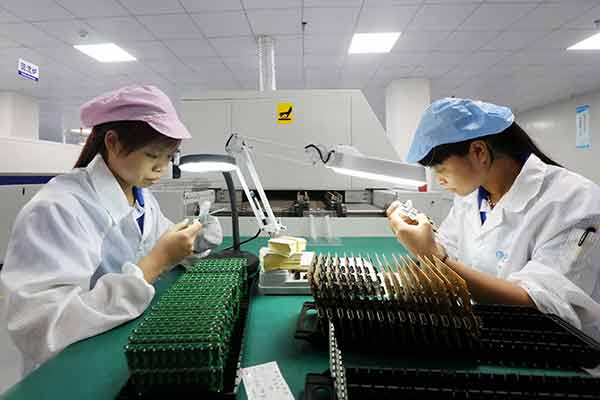 The increasing commercialization of artificial intelligence is set to give China a substantial boost in the global semiconductors field, say international researchers.
Revenues from semiconductors manufactured in China will grow by 25 percent to approximately $110 billion in 2019, as producers meet the increasing domestic demand for chipsets, fueled in part by AI advances, said consultancy Deloitte Global in an annual industry preview released on Tuesday.
A Chinese chip foundry will begin producing semiconductors specialized to support AI and machine learning tasks, thanks to massive domestic demand and the technological might of domestic tech giants, said Chris Arkenberg, a research manager with Deloitte's Center for Technology, Media and Telecommunications.
"China is perhaps better positioned now than ever before to become a globally competitive player in both semiconductors and AI ... because leading digital businesses (in China) have signaled that greater domestic self-supply of semiconductors is a vital component of their future," he said.
For instance, China's technology trio, namely Baidu, Alibaba and Tencent, hold stakes in more than half of China's 124 unicorn startups, including SenseTime, the world's most valuable pure-play AI company.
"They are spending and hiring aggressively to create onshore manufacturing capabilities approaching those of the top global foundries," Arkenberg noted.
Beijing's Horizon Robotics, founded by the former head of Baidu's Institute of Deep Learning, supplies embedded chips for machine vision and is working with major automotive brands to provide edge processing with machine vision for vehicles.
Another notable Chinese chip player, Cambricon, also has a line of chips specializing in supporting machine learning tasks, contributing design support for AI in Huawei's Kirin smartphone chipset and then delivering its own machine learning solutions for data centers.
The massive troves of data in the Chinese market will help to improve the precision and accuracy of algorithms, thus fueling the development of AI chips, said Roger Chung, Deloitte Research TMT senior manager.
In announcing the decision to establish a dedicated chip company in October, Zhang Jianfeng, chief technology officer of Alibaba, attributed the tech giant's unique position to lead breakthroughs in chips to its "advantages in algorithm and data intelligence".
AI is likely to become a springboard for China's semiconductors industry in the long term, given the massive troves of data generated in various scenarios and the relatively easier access to them, said Bill Lu, a Hong Kong-based managing director in research at UBS.
"China's top internet players have the biggest command of consumer data and are better positioned to bear the ever-increasing marginal costs to capture new customers," Lu said.
Advances in AI are one of the driving forces for the global semiconductor industry with an anticipated 5 to 6 percent growth rate over the next two decades, said Morris Chang, founder of Taiwan Semiconductor Manufacturing Co, in September.