Zhou hopeful he can rekindle NBA dream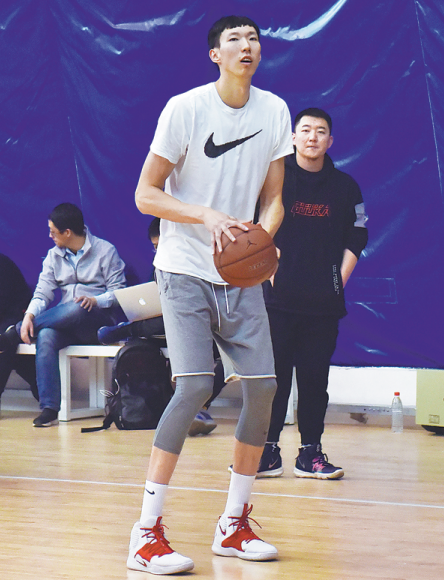 Former Houston center says talks ongoing with multiple teams
Zhou Qi is still holding out for a return to the NBA, but a host of Chinese teams are circling for his signature following his arrival back home on Thursday.
Last month, the 22-year-old learned just how unforgiving the NBA is after being released by the Houston Rockets.
However, speaking following an open practice in Beijing on Sunday, Zhou said he hadn't given up on his dream of making it in the world's greatest basketball league.
"The first attempt didn't end up well but I won't stop pushing as long as there is still a chance. My priority is to be able to play games in the NBA," Zhou said.
The Rockets signed Zhou with the 43rd overall pick in the 2016 NBA Draft in the hope he could emulate their legendary eight-time All-Star Yao Ming.
However, after two frustrating years in Houston Zhou, who joined in 2017, was waived on Dec 17, and since his return to China has been working out on his own at a Beijing gym.
He said his agent is in negotiations with a number of NBA teams about potential future employment.
"I will keep working hard to maintain my form and will return to the United States soon to seek new opportunities," said the former Xinjiang Flying Tigers star.
Zhou hopes that if a move does materialize, it will offer him more minutes on court than he managed with the Rockets.
"No matter where I play, my goal is to keep improving myself both offensively and defensively and doing so I need to play more games," said Zhou, who averaged 1.3 points and 1.2 rebounds in just around seven minutes on court for Houston.
The 7-foot-1 Zhou showed initial promise in his rookie season off the bench but was unable to become a more reliable mid-range shooter or develop as a rim-runner in the Rockets' fast-paced offense.
A series of injuries, including a sprained knee and twisted ankle, further hampered his development last year.
He played just one NBA game this season-the Rockets' 104-85 loss to the Portland Trailblazers on Oct 31-and spent most of his time with Houston's G-League affiliate, the Rio Grande Valley Vipers.
Zhou said on Sunday that he has fully recovered from the injuries and is ready for any tryouts.
The activation of the 10-day contract in the NBA last Saturday could prove Zhou's ticket back to the big time as teams scramble to shore up injury-hit rosters in the middle of the season.
Zhou spent three seasons with Xinjiang from 2014-17, helping it capture the CBA championship in his final year.
He was also a key player in Team China's 2016 Olympic team and helped his country win gold at this summer's Asian Games.
With Zhou's NBA career in the balance, multiple CBA outfits, including Xinjiang and the defending champion Liaoning Flying Leopards, are keen to avail of his services.
On Friday, Zhou was spotted having dinner in a Beijing restaurant with Liaoning's head coach Guo Shiqiang.
Guo later confirmed that the Shenyang-based franchise was eager to take Zhou back to the club where he played as a kid.
"He started at 9 years old in our youth program and he's always welcome to join us once he is available," he said.
Zhou is currently ineligible to sign with a CBA team after missing the registration deadline early in the season. The league, though, could make an exception, just as it did in 2016 when Yi Jianlian joined the Guangdong Southern Tigers after being waived by the Los Angeles Lakers.
"I haven't seriously considered returning to the CBA," admitted Zhou.
"But if that eventually becomes the only possible choice, I will join a title contender so I can play my best."