Premier calls for support of real economy
Share - WeChat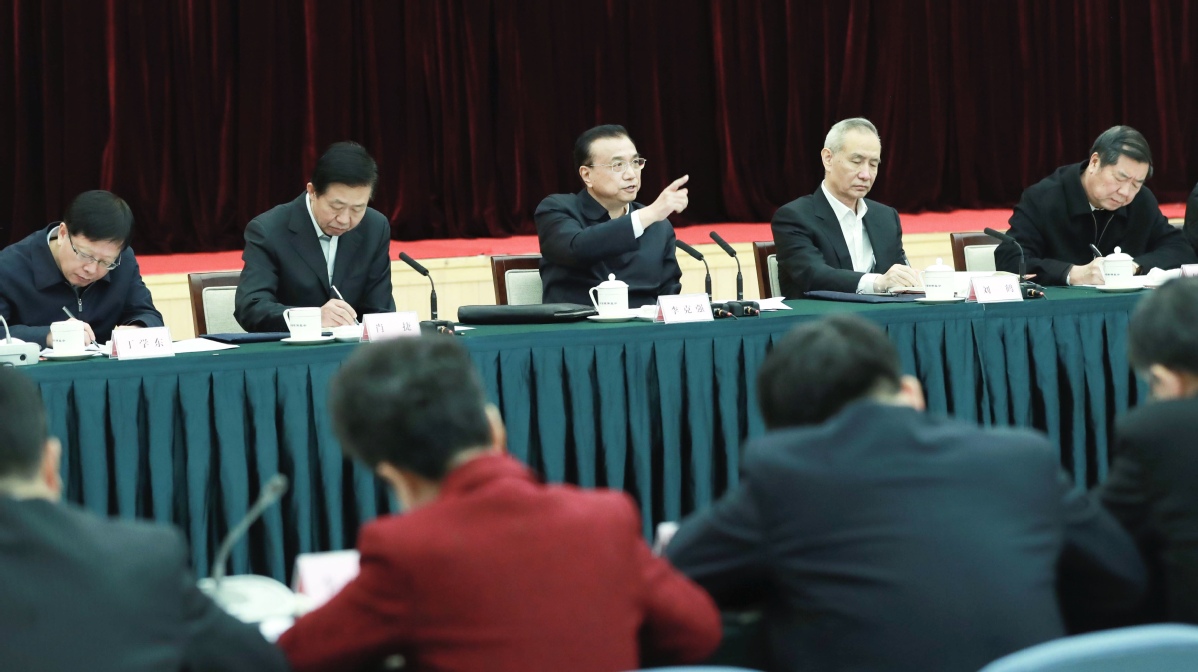 Reserve ratio requirement for banks to be lowered by 1 percentage point
Policy tools, including cutting the reserve ratio requirement for banks, should be used to help finance private, small and medium-sized enterprises, Premier Li Keqiang said on Friday while presiding over a meeting at the offices of the China Banking and Insurance Regulatory Commission.
Meanwhile, he said, stronger adjustments should be made in macroeconomic policies to further reduce taxes and fees.
Later on Friday, the People's Bank of China, the central bank, announced that reserve ratios will be lowered by 1 percentage point, with half applied on Jan 15 and the other half on Jan 25.
Before the meeting, Li visited the inclusive financing departments of Bank of China, Industrial and Commercial Bank of China and China Construction Bank-departments focused on small business financing. He praised the departments for their innovative approaches to resolving financing difficulties for small and micro-sized enterprises.
Li said stable employment relies on millions of small enterprises, and that the support of financial institutions is indispensable to their development. He called on State-owned banks to provide better services for small businesses and maintain market vitality.
At the meeting, Li said China should adhere to prudent monetary policy and use tools, such as targeted reserve ration reductions-rather than massive stimulus-to keep macro leverage stable in the face of complex situations. Measures should be released at appropriate times to ease financing difficulties and reduce costs for small and private businesses, he said.
This year, the Chinese economy is confronted with new downward pressure and other challenges, Li said. He called for continuity and stability in macroeconomic policies, as decided at the Central Economic Work Conference, which concluded on Dec 21. Financial tools, including re-loans and re-discounts, should be adopted to strongly support the real economy, especially private, small and micro-sized enterprises, he said. These businesses should get more loans at lower cost, he said.
The premier said the key for the finance sector serving the real economy is in meeting demand and keeping the national economy within a reasonable range while maintaining stable employment. Liquidity should remain reasonably adequate, he said.
He also called for healthy development of the capital market and a balance between serving the real economy and guarding against major risks, while holding the bottom line of preventing systemic or regional risks.
The premier called for coordination of financial policies and other macroeconomic policies to effectively expand investment, domestic consumption and the ability to serve the real economy.
Vice-Premier Liu He, head of the State Council Financial Stability and Development Commission, also attended the meeting.