Karsts, kiwifruit and big data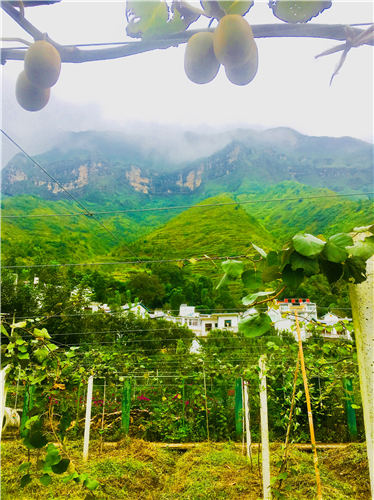 The cascade gushed into a fizzing pool in front of a two-story statue of a kiwifruit slice installed for photo ops.
At the bottom of the alp's water ribbon, teeny people got out of tiny cars to snap shots with the huge fruit wedge.
The fruit from which the kiwi was created in New Zealand originally came from China's Sichuan province over a century ago.
The wild varieties, then called Chinese gooseberries, were grape-sized and bitter.
They were selectively bred in New Zealand to create the large, sweet varieties we eat today.
About a decade ago, I reported on how the not-so-prodigal kiwi had returned home to southwestern China's soil.
It's today cultivating new prosperity in places like Shuicheng.
The variety that thrives in Guizhou - relatively bald and with a tangyhoney aftertaste - sells for four to 10 times more than Sichuan's on average, locals told me.
Turns out, like big data, they thrive in climatically stable karsts.
Guizhou has long been known for poor soil that often produces little more than low-grade corn on terraces chopped into the mountains over centuries.
"Local farmers could only earn about 1,000 yuan ($144) per mu (1/15th of a hectare) growing corn," Zhang told me atop the mountain that the orchard spills down.
"They earn an average of 30,000 yuan per mu a year growing kiwifruit. They can earn 90,000 yuan per mu at most."
I pointed out a small cornfield below, at the orchard's edge.
"That'll be gone next year," Zhang told me.
"Locals have realized kiwifruit brings in several times more money."